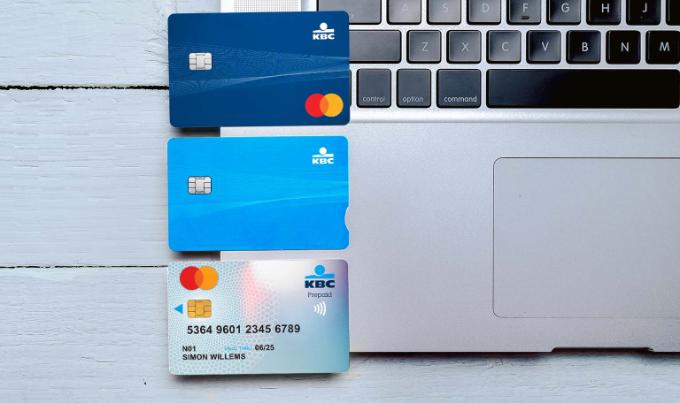 Compare our payment cards
KBC Brussels Debit Card, KBC Brussels Credit Card and KBC Brussels Prepaid Card
Check out the features of our payment cards
Apply for your card online
Or use a combination of cards

Look, compare and choose your KBC Brussels payment card
The three different types of payment card are the debit card, the credit card and the prepaid card. Wondering which one is best suited to your needs? We've set out their features below to help you decide.
Pick a characteristic
Standard spending limit

Pay in advance, now or later

Worldwide and online payments

Add-ons
* You can see whether you can pay with Maestro or Mastercard by the type of logo on your KBC Brussels Debit Card (overlapping red and blue circles for Maestro – overlapping red and yellow circles for Mastercard).
More information
The unique features of your debit card:

What you spend is debited immediately from your account.
Your card is linked to one of your current accounts.
You can personalise your debit card with a neat photo.
It's cheaper to withdraw money from an ATM in Belgium or elsewhere in the EU with a debit card than with a credit card. It's better to use your debit card to make small cash withdrawals in countries outside the EU.


The unique features of your credit card:

What you spend is not debited immediately from your account.
You can spread your repayments over several months if you wish.
You can choose the maximum amount you may spend per month, provided the limit has been approved first.
You can link optional and fee-based service packages and insurance packages to your credit card.
The KBC Brussels Credit Card comes free with the KBC Brussels Basic Account and KBC Brussels Plus Account.
Withdrawing cash with your credit card costs money, including in Belgium. It is only when you make large withdrawals outside the EU that it is cheaper to use your credit card than your debit card.


The unique features of your prepaid card:
• You decide in advance what you're going to spend by only putting that amount onto your card when loading it.
• You can load up 5 000 euros (maximum balance) to your prepaid card.
• Your prepaid card is not linked to your current account.
• A prepaid card is the ideal payment card when you want to keep your budget under control.
Depending on your specific needs, you can link your KBC Brussels Credit Card to one of our insurance packages or service packages:

Shopping package (1.50 euros/month): You're covered for damage to or theft of your in-store and online purchases. Not only that, you also get two years' extra warranty on top of the statutory two-year period.

Purchase protection

Not covered: includes cash, foreign exchange and traveller's cheques


 

Extended warranty

Not covered: includes deliberate damage and normal wear and tear

 

Online shopping protection

Not covered: includes hidden defects and purchases made from fake or fraudulent websites

 

Travel package (7.00 euros/month): Travel with peace of mind wherever you go.

What isn't covered?

 

Travel cancellation

Not covered: includes business trips and transport not used to travel to and from the holiday destination

 

Excess for damage to your rental vehicle

Not covered: includes trailers and rentals for professional purposes


 

Urgent purchases due to delayed luggage

Not covered: includes purchases reimbursed by the airline and when you fail to collect your luggage...

 

Luxury package (25.00 euros/month): Want a premium experience at all times, wherever you are? With the luxury package added to your KBC Brussels Credit Card, you really get to experience what luxury is all about. A Personal Travel & Lifestyle Manager is there for you 24/7 to inspire you for your personal needs, in planning exclusive trips or when buying high-end luxury goods. And that's not all – you also get to access airport lounges throughout the world.
Documents
Good to know
The KBC Brussels Credit Card is a credit card issued by: KBC Bank NV, with registered office at Havenlaan 2, 1080 Brussels, Belgium. VAT BE 0462.920.226, RLP Brussels, FSMA 026 256 A.
The KBC Brussels Flex Budget facility is an open-ended credit facility linked to the KBC Brussels Credit Card and used as an additional means of drawing credit.
Lender and card issuer: KBC Bank NV. Subject to your card or credit application being approved by KBC Bank NV.
Your intermediary is the first point of contact for any complaints you may have. If no agreement can be reached, please contact KBC Brussels Complaints Management, Brusselsesteenweg 100, 3000 Leuven, complaints@kbc.be, tel. 016 43 25 94 or ombudsman@ombudsfin.be, www.ombfin.be. This does not affect your legal rights.