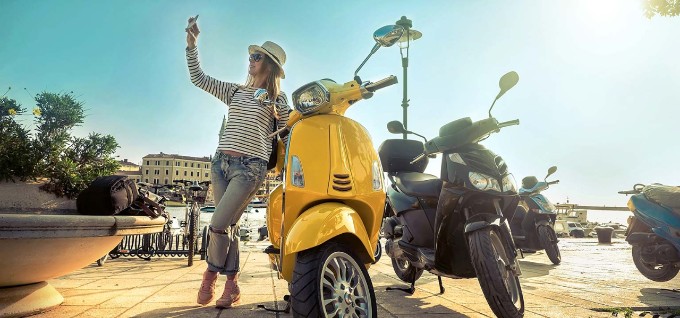 Insurance for your scooter or speed pedelec
Be properly insured before taking to the road on your scooter, speed pedelec or moped
Take out just the compulsory cover or go for more security with add-on cover
Add our breakdown assistance option for a reliable breakdown rescue service in Belgium, the Netherlands and Luxembourg
File claims using our app, wherever you are
Compulsory third-party liability insurance
If you ride a scooter, speed pedelec or class A or class B moped on public roads, by law, you must have third-party insurance.
This compulsory insurance policy covers the harm you cause to others with your moped if you cause an accident, such as personal injury and damage to other vehicles or buildings.
Covered
Harm you cause to others with your moped, including property damage (bodywork, buildings) and bodily damage (i.e. deaths or injuries)
If a vulnerable road user is injured in an accident involving your moped, we'll pay compensation for those injuries even if you weren't at fault
Not covered
Damage to your own moped
Bodily injury that you as the rider sustain in a road traffic accident
Damage caused whilst taking part in a competition
The complete list of exclusions can be found in the general conditions.

Optional: extend the cover on your KBC Vehicle Insurance for Mopeds
If you're after more security, extend your third-party liability insurance cover by adding a number of options. You are not under any legal requirement to do so, but it could end up saving you a lot of money.

What insurance should you take out for a speed pedelec?
You can take out bicycle insurance or moped insurance for your electric bicycle or speed pedelec. The cover you need depends on the type of bicycle you have.
When do you need bicycle insurance?
Your bicycle can run autonomously on an auxiliary engine (without you pedalling) and has a maximum speed of 25 km/h,
or 

Your bicycle is pedal-assisted (it cannot move without being pedalled) and has a maximum speed of 45 km/h

→ See more on bicycle insurance
When do you need moped insurance?
If your speed pedelec can run autonomously on an auxiliary engine (without you pedalling) and has a maximum speed of 45 km/h, you must take out third-party liability insurance for vehicles (moped insurance).
Good to know
KBC Vehicle Insurance for Mopeds may include one or more of the above forms of cover. The type of insurance can be deduced from the name of the insurance.

This product is governed by the laws of Belgium.
Insurance cover under this policy is valid for a term of one year and tacitly renews, unless it is terminated no later than three months before the principal renewal date.
Your intermediary is the first point of contact for any complaints you may have. If no agreement can be reached, please contact KBC Complaints Management, Brusselsesteenweg 100, 3000 Leuven, %%complaints%%. If you cannot find a suitable solution, you can contact the Belgian insurance industry's ombudsman service: Ombudsman van de Verzekeringen, de Meeûssquare 35, 1000 Brussels, info@ombudsman.as, www.ombudsman.as. This does not affect your legal rights.
To request a quote for KBC Vehicle Insurance for Mopeds, contact an insurance expert in one of our branches. Make an appointment now for moped insurance.

KBC Vehicle Insurance for Mopeds is a product from KBC Insurance NV – Professor Roger Van Overstraetenplein 2 – 3000 Leuven – Belgium
VAT BE 403.552.563 – RLP Leuven – IBAN BE43 7300 0420 0601 – BIC KREDBEBB
Company authorised for all classes of insurance under code 0014 (Royal Decree of 4 July 1979; Belgian Official Gazette, 14 July 1979) by the National Bank of Belgium, de Berlaimontlaan 14, 1000 Brussels, Belgium.
Member of the KBC group
Read this information carefully before taking out this insurance
Wondering how much it will cost to take out moped insurance?