Tailored to your needs
Just take out the compulsory car insurance or add extra cover for more comprehensive insurance.
Drive safely and pay less
Stay claim-free for five years and you could get 50% off your premium.
Leave the administrative work for your new car to us
New car? We'll handle your car's registration, apply for a new registration plate on your behalf, and contact you when your car is ready to go.
Why take out KBC Brussels car insurance?
Insurance agent Estelle De Ruyck tells you the benefits of KBC Brussels car insurance.
Car insurance the way you need it
If you have a car, you are required by law to take out third-party liability insurance. Several options are available to you. You can only take out the compulsory third-party liability insurance or you can choose fully comprehensive insurance with everything included... or you can go for something in between. Find out what we can do for you.
The basis: compulsory car insurance
If you want to drive your car on public roads, you are obliged to take out Third-Party Liability cover as a bare minimum. This insurance covers any loss, damage or injury you cause to others if you are at fault. In such cases, any damage to your own car is not insured.
A car insurance policy offering more protection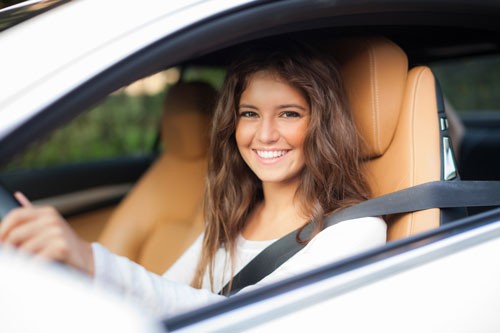 You can expand your car insurance for more protection
All-Risks Comprehensive Insurance is fully comprehensive and covers all damage to your own car, even if you are at fault
Partial Comprehensive Insurance offers semi-comprehensive insurance and covers damage to your own car caused by theft, glass breakage, forces of nature, fire or gnawing by martens
Legal Assistance Insurance offers expert advice and legal assistance in the event of loss or damage
Driver Accident Insurance covers physical injury from an accident, even if you are at fault
KBC VAB Assistance offers assistance in the event of an accident, theft or driver health problems. You can add further roadside assistance cover and worldwide travel assistance for the entire family irrespective of the means of transport used
Drive safely and pay less
Careful drivers receive premium discounts faster as a no-claims bonus, which is referred to as the bonus-malus system in Belgium. This system affects the level of your third-party liability insurance premium by awarding you a discount (bonus) for claims-free driving or by penalising you (malus) if you are liable for a claim. Your premium could be reduced by as much as 50% after five years
If you cause an accident as a careful driver who has not had any damage for three years and a vehicle that is at the best no-claims bonus level, your premium will not go up thanks to our joker system.
When you receive a joker, KBC Insurance will not take into account the next claim, even if you are at fault. We will automatically use your joker, which means that your no-claims bonus (bonus-malus) rating will not be affected and your premium for your compulsory third-party liability insurance will not go up
New car? KBC Brussels will do your paperwork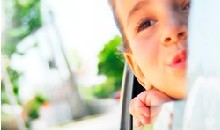 If you are taking out insurance for your new car, KBC Brussels will have your registration plate and all the papers, including the international motor vehicle insurance certificate ('green card'), ready in your car when you collect it from the garage. All you need to do is pick up the keys and go for a drive. Interested? Read more here 
KBC Brussels also welcomes mature drivers
If you are between 55 and 65 years old, it can be difficult to find affordable car insurance. If you have been a KBC Insurance client for five years or more and you have not had an accident in the last five years, we will reward your loyalty and safe driving record by ensuring that we will not cancel your insurance policy simply because of your age or a claim, even after the age of 65.
Insure your children as they learn to drive
As a parent, you want to protect your children as much as possible. This is no different when they learn to drive and buy their own vehicle. That is why KBC Brussels offers two major insurance solutions for young drivers.
KBC Brussels Start2Drive cover allows you to include your children in your car insurance when they learn to drive No extra premium applies
KBC MyFirstCar Insurance gives your children their own inexpensive car insurance in their own name
Good to know
KBC Vehicle Insurance for passenger cars may include one or more of the following forms of cover
| | |
| --- | --- |
| Compulsory Third-Party Liability Insurance | This is a third-party liability insurance |
| Legal Assistance Insurance | This insurance offers legal assistance |
| All Risks Comprehensive Insurance | This insurance is fully comprehensive |
| Partial Comprehensive Insurance | This is semi-comprehensive insurance |
| KBC VAB Assistance | This insurance offers personal and vehicle assistance |
| Driver Accident Insurance | This insurance covers accidents |
This product is governed by the laws of Belgium
The insurance provided by this policy is valid for one year It will be tacitly renewed, unless it is terminated no later than three months before the principal renewal date
Your intermediary is your first point of contact for any complaints you may have. If no agreement can be reached, you can contact KBC Brussels Complaints Management, Brusselsesteenweg 100, 3000 Leuven, complaints@kbc.be, tel. 0800 62 084 (free number) or 078 15 20 45 (pay number), fax 016 86 30 38. If this does not result in a satisfactory solution, you can contact the Insurance Ombudsman, which acts for the entire industry, at de Meeûsplantsoen 35, 1000 Brussels, info@ombudsman.as or visit www.ombudsman.as.
However, you always retain the right to initiate legal proceedings.
To request a quote for a KBC Vehicle Insurance for passenger cars, do not hesitate to contact your KBC Insurance intermediary or visit our website.
KBC Vehicle Insurance is a product from KBC Insurance NV – Professor Roger Van Overstraetenplein 2 – 3000 Leuven – Belgium –
VAT BE 0403.552.563 – RLP Leuven – IBAN BE43 7300 0420 0601 – BIC KREDBEBB
The company is licensed by the National Bank of Belgium, de Berlaimontlaan 14, 1000 Brussels, Belgium for all classes of insurance under code 0014 (Royal Decree of 4 July 1979, Belgian Official Gazette of 14 July 1979).
Member of the KBC Group
For a concise description of the cover, the most important exclusions and other information, please refer to the product fact sheet
Car accident claims
Accident, glass breakage, theft? Help with filing a car accident claim.