For the first time in a long time, the Brussels property market experienced a slowdown at the start of 2023. After 4 years of steadily rising house prices (between 6% and 8% per annum) and apartment prices (between 4% and 6%), both the number of transactions and property prices are falling in the capital. This can mainly be put down to the mortgage rate hike, which has had a noticeable impact on rental property. The good news, however, is that regional grants have been revised upwards!

Market prices in Brussels
With a 5% downturn in property transactions in Brussels (-7.1% nationally), the market has gone into decline for the first time in a very long time. Mortgage rates are the main culprit, but the economic situation, pummelled by a string of crises (Ukraine, energy, etc.), also comes into play.
As for prices, they have stabilised and, nationwide, are up 1.1% for houses (0.8% in Brussels) and 1.5% for apartments (0.4% in Brussels). However, the highest prices in the country are still found in the capital. In the first quarter of 2023, the average price of a house in Belgium was EUR 323,031, while in Brussels it now stands at EUR 578,753. The average price of an apartment in Belgium is EUR 264,139, while the average price in Brussels is EUR 281,918.
It is interesting to note that, while Woluwe-Saint-Pierre remains the most expensive district in the capital (and indeed in the country), with an average house price of EUR 828,340, Ixelles, where land is almost non-existent, has seen the biggest regional price drop: -8.5%, with an average price of EUR 783,375.
The Brussels municipalities recording the highest regional price rises are Forest (+17.8%), Ganshoren (+15.9%), Berchem-Sainte-Agathe (+13.9%) and Saint-Gilles (+13.1%).

For more detailed information on real estate prices in Belgium, consult the notary barometer (only available in Dutch and French).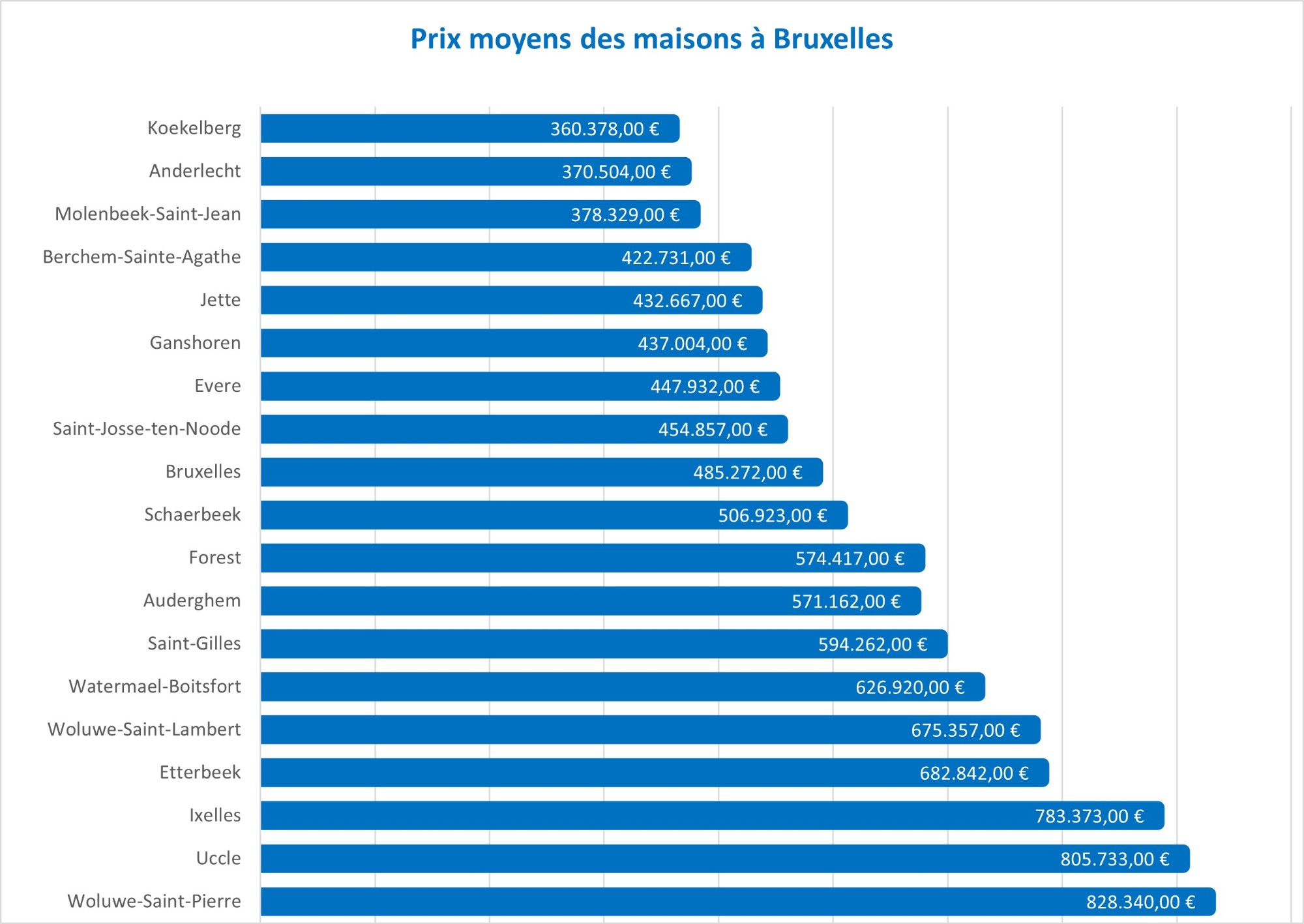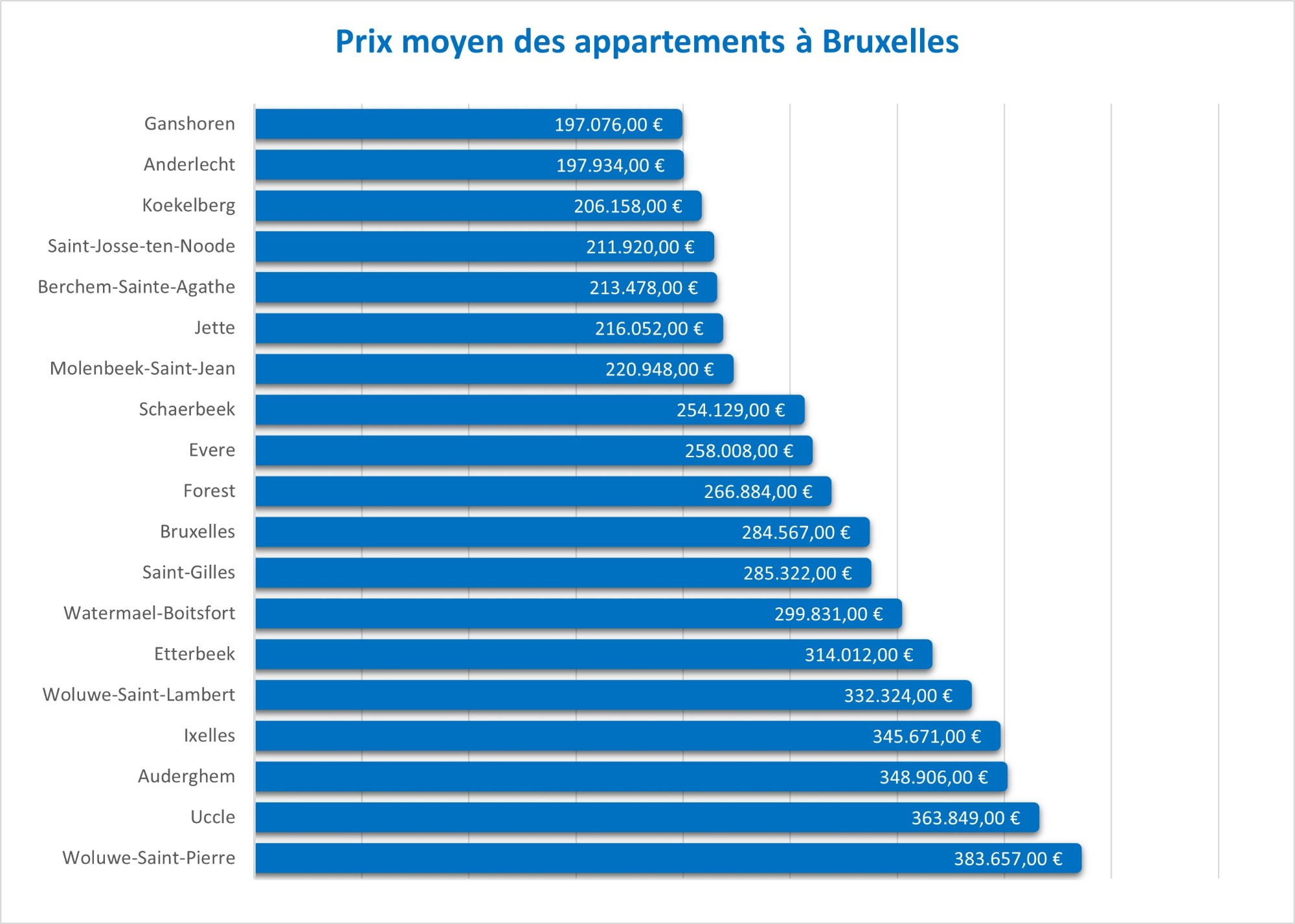 What about rents?
While, according to the federation of estate agents (Federia), rent rises were relatively moderate in 2020 and 2021 (+0.7% and +0.8% respectively), 2022 saw an increase of over 4%, pushing the average rent above €1,100.
However, this jump was well below the rate of inflation, making 2022 an atypical year, since new leases increased less quickly than existing fully indexed leases, according to Federia.
The ranking of the most expensive municipalities for renting remains identical to that for properties, with the top three places taken by Woluwe-Saint-Pierre (an average of EUR 1,310 per month for an apartment), followed by Uccle (EUR 1,247) and Ixelles (EUR 1,217).
How to buy?
Would-be buyers have several options: private sale, public sale or online sale.
In the case of a private sale, the vendor and buyer agree the price of the property, at which point the sale is fixed. They sign a preliminary purchase agreement which, following the necessary checks, is then finalized in a notarial deed. On top of the agreed purchase price, the buyer has to pay registration duties (12.5% in Brussels), as well as notary's fees and administrative costs, making a total of 14–15%.
Public and online sales (www.biddit.be) are auctions overseen by a notary. If accepted by the seller, the highest bid seals the purchase. Once again, you have to add a flat fee of about 14–15% to the purchase price. Not only are sales like this safe and free of surprises, they also have the advantage of being simpler and faster (in the case of an online sale, it only takes a few weeks to become the new owner).
One thing you always have to keep in mind is that, regardless of your chosen formula, as soon as you sign a preliminary agreement or submit an offer, you are making a binding commitment to the vendor. So before you embark on this adventure, you really need to know how much you can afford.
If you use the online simulation tool offered by KBC Brussels, you'll know in just 15 minutes whether or not your project is affordable:

How to finance your purchase?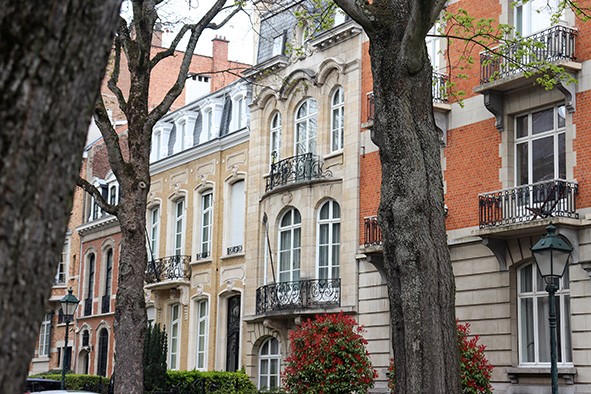 Even if you have your own funds, it is always advisable to finance at least part of your purchase through a loan (in the shape of a mortgage). This has several advantages:
You retain a financial buffer to deal with unexpected events or investment opportunities.
The interest payments on your mortgage loan are tax-deductible.
Interest rates are still affordable
As the Brussels experts, we can offer you personalized advice on the best KBC Brussels mortgage to finance your purchase of a property in the capital.

Grants and subsidies in Brussels
Various subsidies to help you achieve your real-estate plans are available in the Belgian capital. Each depends on your specific situation and the nature of your project. Here are the main ones:

Tax allowance: from EUR 175,000 to EUR 200,000!
In Brussels, under certain conditions, you are entitled to a tax allowance on the first price bracket of your property. The good news is that from 1 April 2023, this price bracket has been increased from EUR 175,000 to EUR 200,000. This means that you do not have to pay registration duty of 12.5% on this bracket, a saving of EUR 25,000. To qualify, the property must be located in Brussels, you must occupy it as your principal residence as a private individual for 5 years, you must not own any other property and its price must not exceed EUR 600,000 (compared with EUR 500,000 previously).

More info: Tax relief – Bruxelles Fiscalité (fiscalite.brussels) (French)

Renovation subsidy
Depending on your income and the condition of the property, these can range from 30 to 70% of the cost of renovation. The application must be submitted before the work begins.
Energy subsidy
If your renovation improves the property's energy-efficiency (insulation, replacement boiler, etc.), you can request a subsidy covering up to 70% of your costs. Unlike the renovation subsidy, this grant can be applied for up to 12 months after the work is carried out.
Exterior renovation grant
A special renovation subsidy for the exterior of your property covers 30–80% of your costs, depending on your income and the building's location.
Good to know: changes in the Brussels subsidies in 2022
As of 1 January 2022, the energy, renovation and façade improvement subsidies have undergone some changes and have been merged into one system: the RENOLUTION subsidies.
The RENOLUTION grants enter into force on 1 January 2022 and will only be formally accessible via IRISbox, the digital counter of the Brussels-Capital Region, as of 1 March 2022.
An important novelty of the 2022 scheme is that all grant applications will have to be submitted after the work has been carried out, i.e. after the final invoice (the last eligible invoice) has been received and paid. The RENOLUTION premiums are therefore aligned to a single system for all premiums. The old system for renovation premiums and façade beautification will be discontinued on 31 December 2021. If your invoice is dated 2021, you fall under the 2021 scheme.
More information on Renolution website (French/Dutch)
Reduced VAT for demolition/rebuilding
If you have a new property built, the VAT payable on the work will be 21%. However, if you demolish an existing building to construct a new one on the same plot, the Brussels Capital Region has decided to temporarily reduce the VAT rate to 6%, subject to certain conditions.
More info: new measure for demolition-rebuilding (French)