Notaries have reported unprecedented activity on the Belgian property market in 2019. The January 2020 edition of the 'Notary Barometer' announced a record level of real estate transactions last year. This partly reflected persistently low interest rates, but also the scrapping of the 'Woonbonus' mortgage tax relief in Flanders. The price of apartments and houses in Brussels continued to rise, gaining 5.7% and 5.5% respectively.

Belgians have certainly not lost their proverbial 'brick in the belly'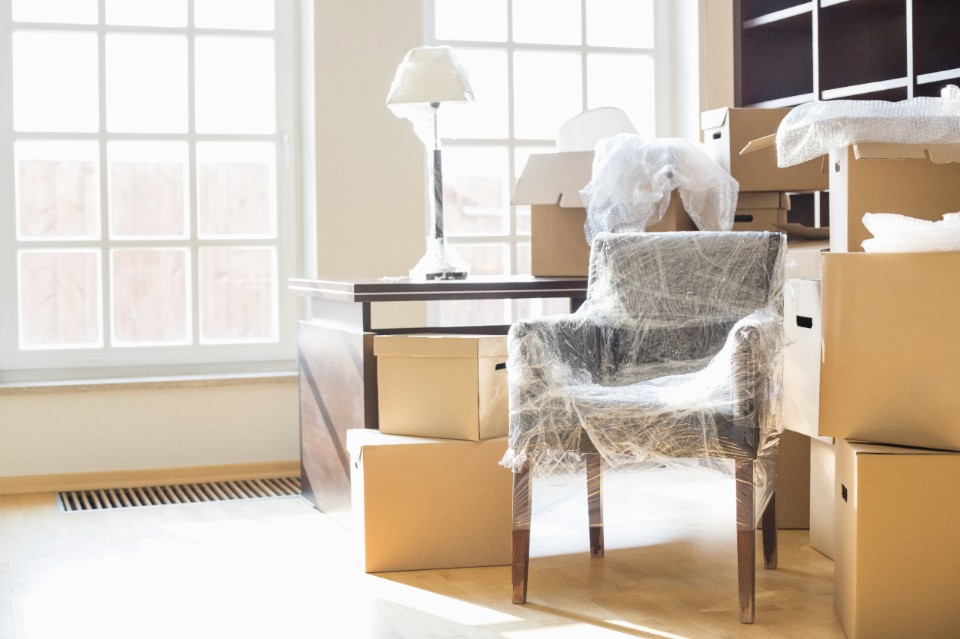 Low interest rates boosted property transactions once again and 2019 was an extremely busy year. Figures provided by the Federation of Belgian Notaries show that 2019 saw an 8.9% increase in activity compared to the previous year, marking the third record in a row. The increase was strongest in Flanders, which saw a 10.8% rise, peaking in the third quarter after it was announced that the 'Woonbonus' – mortgage tax relief – would be abolished. Activity was up 6.3% in Brussels and 6% in Wallonia. In other words, Belgians once again responded to low savings rates and the risks associated with stock market investments by favouring real estate, the return on which continues to grow.

Apartments booming in Brussels
House purchases are outstripping those of apartments at national level (74.5% houses, 25.5% apartments). In Brussels, by contrast, the trend is the other way around, with 63.2% of purchases involving apartments and just 36.8% houses. This is despite the fact that the average price of an apartment is highest in Brussels, rising by 5.7% in 2019 to 253 540 euros. In other words, the average apartment rose in value by 11 000 euros in Brussels, compared to just 1 500 euros in Wallonia. That's the kind of capital gain that appeals to investors.
'The apartment market is more influenced by investors. And it's obviously the Brussels market which is most attractive right now. That's one of the reasons for the recent increase in both market prices and the number of transactions in the apartment market there', Renaud Grégoire, spokesperson for the Belgian notaries, explains.
Two-bedroom apartments have risen most in price in Brussels, gaining 7% to an average of 252 683 euros. Brussels is also the region where the premium paid for a three-bedroom apartment is highest. At an average of 346 227 euros, it is as high as 37% compared to a two-bedroom flat.

Houses are as popular as ever in Brussels
Average house prices rose in all three Federal Regions in 2019, but it was Brussels once again where the increase was most spectacular at 5.5%. Houses in the capital cost an average of 478 603 euros – well above the 450 000 euro level. The average price of a house in Brussels has risen 12.1% in the space of five years. Adjusted for 7.7% inflation over the same period, this represents a real increase of 4.4% or 19 000 euros.
Houses in Brussels cost 67% more than those in Flanders and 143% more than in Wallonia.

Real-estate prices in Brussels by district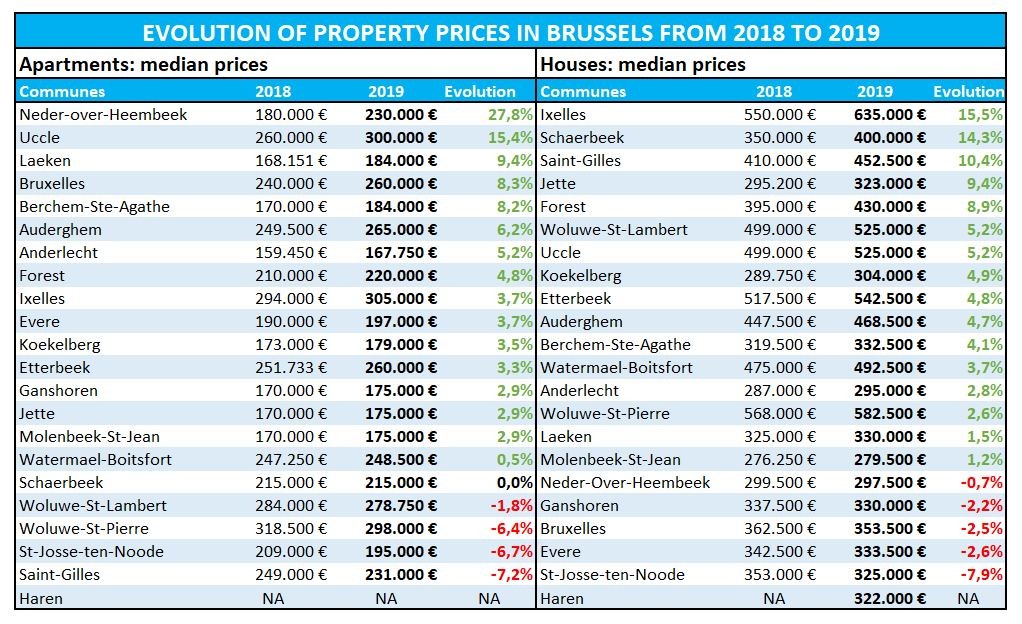 More info? Download the notaries report (French)
Fixed or variable-rate: what type of home loan should you choose?
The property market in Brussels remains very healthy. Interest rates are still very low, while the reduction in stamp duty on the first tranche of 175 000 euros (to offset repeal of the housing bonus) is also having a positive effect, reducing costs by just under 22 000 euros. There should still be plenty of prospective buyers therefore eyeing the capital.
Be that as it may, what type of home loan should you choose to fund your future purchase? In a period of very low interest rates, it's obviously tempting to go for a fixed rate: rates aren't likely to go any lower, after all. Variable-rate home loans nevertheless remain attractive for a variety of reasons:
A variable-rate loan is cheaper than a fixed-rate one.
Even if interest rates increase, a variable rate is legally capped at twice the starting rate. Given how low those initial rates are right now, a variable-rate loan could still be beneficial over its entire term.
You repay more capital during the first years with a variable-rate loan. If you decide to sell the property or to renegotiate the loan before the official end date, you're better off if you have already repaid a lot of capital (as opposed to interest).
Even if this amounts to a (calculated) bet on the future, the variable rate means you will benefit from lower monthly repayments at the beginning, even if you will have to pay a little more later (assuming interest rates rise), by which point you should theoretically be better off. This is an attractive formula for young people, therefore, who tend to have less money coming in when they first take out a home loan.


Are you planning a real-estate project? Verify online if it is realistic!
Not sure what kind of loan to choose? Talk to our experts about which choice is the best suited to your situation