The pandemic seems to have had no effect on the housing market. Despite strict lockdowns, 2020 had little impact on real estate transactions (-2.7%), with prices rising throughout Belgium. 2021 then brought a sharp increase in the number of transactions (+14.3%) while prices continued to rise across the board. More than ever, real estate remains a safe bet for investors and savers.

Market prices in Brussels
Given that 2021 saw the number of transactions at national level rise by 14.3% (+11.1% in Brussels), the real estate market has clearly bounced back to its pre-pandemic strength, especially during the more active first half of the year.
Prices, meanwhile, have continued to climb. The average price of a house in Belgium currently stands at 297 661 euros (compared to 274 382 euros in 2020), while in Brussels it is now necessary to pay an average of 528 057 euros (compared to 499 488 euros in 2020, an increase of 3.1% excluding inflation).
Flats have also appreciated in value, but at a slower rate than houses (in contrast to previous years). The average price of a flat in Belgium has risen to 257 228 euros, an increase of 2.3% in comparison to 2020. In Brussels, the average price rose from 274 382 euros to 284 488 euros.
It is worth noting that the most expensive properties (over 300 000 euros) experienced the largest increases, while the prices of more modest homes tended to stabilise.
Brussels remains the region with the highest prices in Belgium, especially for flats. What's more, a three-bedroom flat costs 35% more than a two-bedroom flat, a Belgian record!
It should be noted that the most expensive municipalities in Brussels are Ixelles, Uccle, and the two Woluwe municipalities, all of which are among the top 10 most expensive municipalities nationwide, with average prices of between 3 500 and 4 000 euros per m2.
For more detailed information on real estate prices in Belgium, consult the notary barometer (only available in Dutch and French).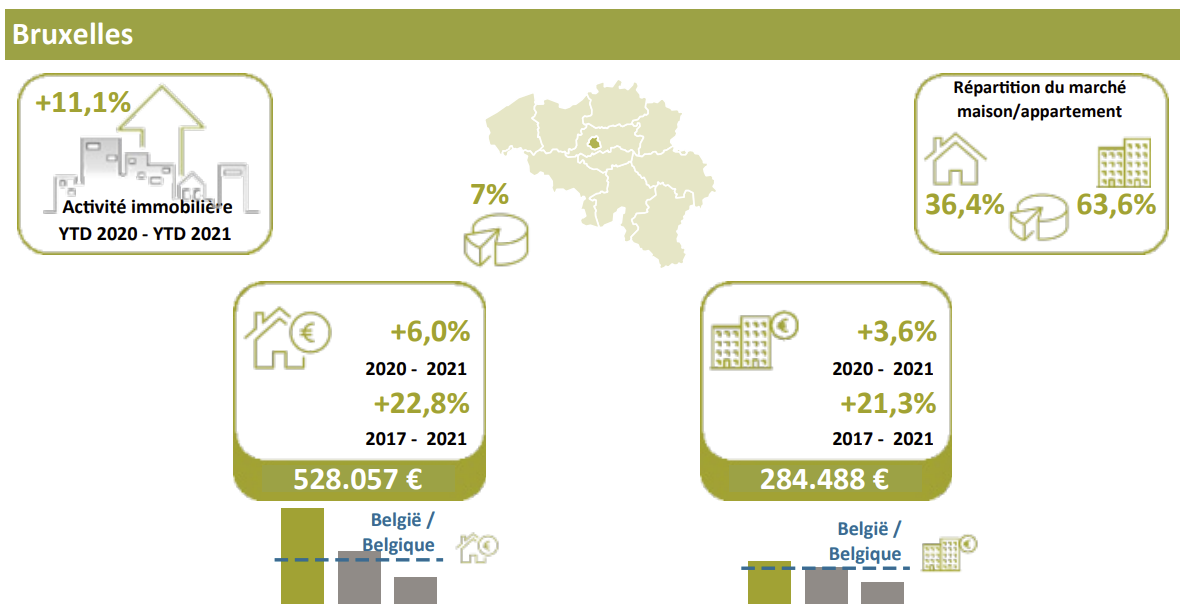 How to buy?
Would-be buyers have several options: private sale, public sale or online sale.
In the case of a private sale, the vendor and buyer agree the price of the property, at which point the sale is fixed. They sign a preliminary purchase agreement which, following the necessary checks, is then finalized in a notarial deed. On top of the agreed purchase price, the buyer has to pay registration duties (12.5% in Brussels), as well as notary's fees and administrative costs, making a total of 14–15%.
Public and online sales (www.biddit.be) are auctions overseen by a notary. If accepted by the seller, the highest bid seals the purchase. Once again, you have to add a flat fee of about 14–15% to the purchase price. Not only are sales like this safe and free of surprises, they also have the advantage of being simpler and faster (in the case of an online sale, it only takes a few weeks to become the new owner).
One thing you always have to keep in mind is that, regardless of your chosen formula, as soon as you sign a preliminary agreement or submit an offer, you are making a binding commitment to the vendor. So before you embark on this adventure, you really need to know how much you can afford.
If you use the online simulation tool offered by KBC Brussels, you'll know in just 15 minutes whether or not your project is affordable:

How to finance your purchase?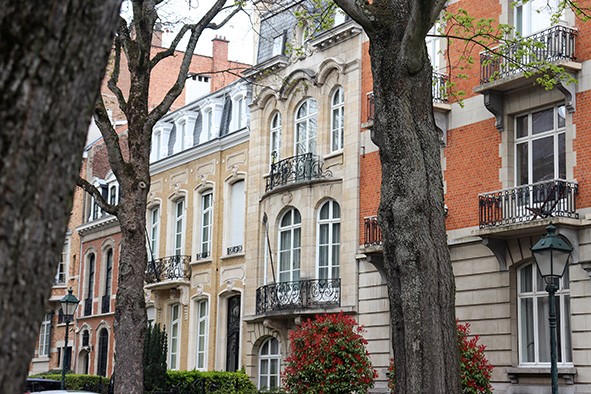 Even if you have your own funds, it is always advisable to finance at least part of your purchase through a loan (in the shape of a mortgage). This has several advantages:
You retain a financial buffer to deal with unexpected events or investment opportunities.
The interest payments on your mortgage loan are tax-deductible.
Interest rates are at historically low levels in 2021.
As the Brussels experts, we can offer you personalized advice on the best KBC Brussels mortgage to finance your purchase of a property in the capital.

Grants and subsidies in Brussels
Various subsidies to help you achieve your real-estate plans are available in the Belgian capital. Each depends on your specific situation and the nature of your project. Here are the main ones:

Tax relief on first 175 000 euros
Subject to certain conditions, you can receive tax relief in Brussels on the first 175 000 euros of the price of your property. You don't have to pay registration duties on this tranche, which means you save 21 875 euros. To qualify, the property must be located in Brussels, it has to be your principal residence as a natural person for five years, you mustn't own any other property, and the price may not exceed 500 000 euros.
More info: Tax relief – Bruxelles Fiscalité (fiscalite.brussels) (French)

Renovation subsidy
If you're planning to renovate your property, the Brussels Capital Region offers a whole series of subsidies relating to the stability and security of the building and to home improvements. Depending on your income and the condition of the property, these can range from 30 to 70% of the cost of renovation. The application must be submitted before the work begins.

More info: renovation-notice.pdf (logement.brussels) (French)
Energy subsidy
If your renovation improves the property's energy-efficiency (insulation, replacement boiler, etc.), you can request a subsidy covering up to 70% of your costs. Unlike the renovation subsidy, this grant can be applied for up to 12 months after the work is carried out.
More info: Energy subsidy 2021 | Bruxelles Environnement (French)

Exterior renovation grant
Good to know: changes in the Brussels subsidies in 2022
As of 1 January 2022, the energy, renovation and façade improvement subsidies have undergone some changes and have been merged into one system: the RENOLUTION subsidies.
The RENOLUTION grants enter into force on 1 January 2022 and will only be formally accessible via IRISbox, the digital counter of the Brussels-Capital Region, as of 1 March 2022.
An important novelty of the 2022 scheme is that all grant applications will have to be submitted after the work has been carried out, i.e. after the final invoice (the last eligible invoice) has been received and paid. The RENOLUTION premiums are therefore aligned to a single system for all premiums. The old system for renovation premiums and façade beautification will be discontinued on 31 December 2021. If your invoice is dated 2021, you fall under the 2021 scheme.
More information on environnement.brussels (French/Dutch)
Reduced VAT for demolition/rebuilding
If you have a new property built, the VAT payable on the work will be 21%. However, if you demolish an existing building to construct a new one on the same plot, the Brussels Capital Region has decided to reduce the VAT rate to 6% until the end of 2022, subject to certain conditions.
More info: new measure for demolition-rebuilding (French)