You can now check your current and savings accounts with other banks using KBC Brussels Mobile! By providing this service, KBC Brussels has become one of the first banks in Belgium to facilitate this type of multi-banking. Of course, it will be done with utmost respect for your privacy.

What options are already available?
1. Adding accounts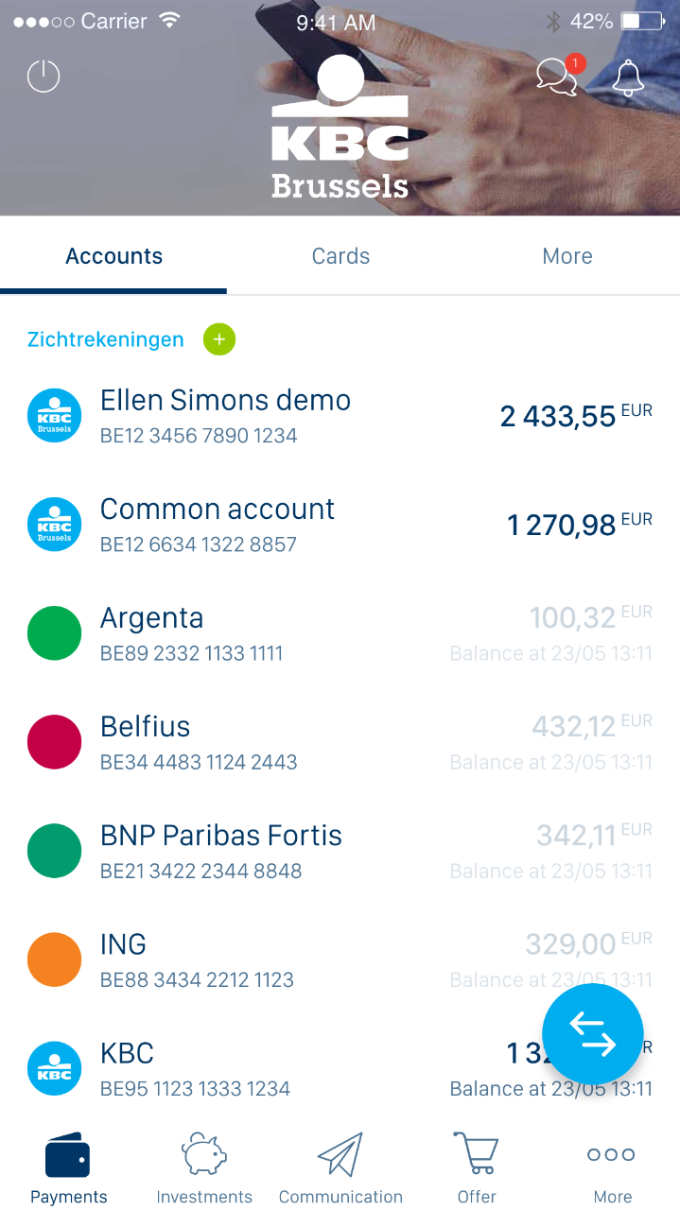 You can add any personal and business current accounts you hold at other banks in the secure environment of KBC Brussels Mobile. 
You can already add current accounts held at Argenta, Belfius, BNP Paribas Fortis, ING, Axa and Hello Bank!, using the other bank's card reader. No card reader is required to add accounts held at KBC and CBC.
At KBC Brussels, we treat any information you entrust to us with the highest degree of confidentiality. In this case, will use it solely for the purposes of this service.

2. Checking your account balance and transactions
Once you've added an account at another bank to KBC Brussels Mobile, you will also be able to see the balance of that account in our app. 
Some banks automatically refresh your balance and transaction history. If your bank doesn't do this, you'll need to follow a few steps on your screen to view your most recent balance.
3. Pay from accounts with other banks
Our Mobile app also lets you make payments from your accounts with other banks. Now it also enables you to get notified when you receive payments on certain accounts you hold with other banks.
We are well aware that these are early days for this promising new feature and, therefore, we intend to use all feedback we receive to further optimise its functionality and user-friendliness.
How does it work?