Discount for safe drivers
We believe good drivers deserve a discount. If you drive without causing any at-fault accidents for a full year, you will receive a 10% discount on your compulsory third-party liability insurance.
Leave the paperwork for your new car up to us
Just bought a new car? We'll arrange your car's registration and new registration plate, and contact you when your car is ready to go.
Take out cover online straightaway
See what it'll cost you in just 3 minutes and take out your insurance online there and then. Your insurance can start as early as the next day.
Free fully comprehensive insurance for two months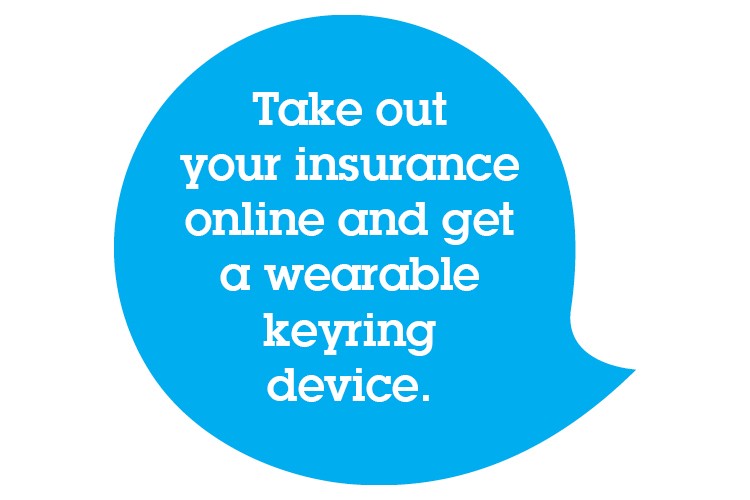 Take out fully comprehensive insurance for your passenger car (including roadside assistance) before the end of April and get two months' cover for free1. When running the simulation, enter OMNIUM2021 as your voucher.
Get a voucher for a wearable key ring2 when you take out your car insurance online. Find out more about wearables at http://www.kbc.be/en/wearables
1 Deducted from your first annual premium. Offer valid subject to acceptance of the risk to be insured.
2 Terms and conditions apply
We will send you a voucher worth 30 euros for a wearable key ring in the month after you take out new car insurance in KBC Brussels Touch, in KBC Brussels Mobile or on the KBC Brussels website. The offer applies to KBC Vehicle Insurance that you take out for a new passenger car, provided the policy has not been cancelled when the voucher is sent. A maximum of one voucher will be issued per address and per family (as long as the offer applies and stocks last). The voucher can be used to purchase a wearable key ring on the website of our partner, LAKS (laks.com/en/kbc-bank)
Read the terms and conditions
If you have a car, you are required by law to take out third-party liability insurance. This insurance will cover any damage you cause to others with your car, but not the damage to your own car.
The third-party liability insurance is valid in Belgium and all countries not crossed out on your international motor vehicle insurance certificate (the 'green card' that you must have in your vehicle at all times).
Why take out third-party liability insurance with us?
1. Even the best drivers can cause accidents. But don't worry; your premium won't go through the roof if you do.
We no longer apply a no-claims bonus system. Instead, we reward good drivers with benefits, such as a joker and a discount on their third-party liability insurance. Because even the best drivers can get into an accident.
No-claims joker
KBC Brussels rewards you with a joker after not filing any at-fault claims for five consecutive years. If you do end up in an accident in which you were at fault, you can use your joker to avoid a premium increase. You can earn back your joker if you do not file any claims for five consecutive years and provided you were insured during this period. This way your premium stays the same in the unfortunate event that you are involved in an accident one time only.
Discount on your third-party liability insurance
Your good driving habits will also earn you a 10% discount on your compulsory third-party liability insurance. If you cause an accident but don't have a joker, this discount will be forfeited for a full year.You will receive the discount again if you do not file any claims for one full year.
2. Life-long insurance guarantee: ensures that you remain insured later in life
If you're aged between 55 and 65, have been a client with KBC Insurance for five years or more and haven't had an accident in the last five years, you are entitled to our life-long insurance guarantee. You can rest assured that your compulsory third-party liability insurance will not be cancelled – even in the event of a claim.
What is covered?
Loss, damage or injury you cause with your vehicle to third parties, both material (e.g., exterior damage, damage to buildings, etc.) and physical (i.e. death or injuries).
Injuries sustained by pedestrians, cyclists or passengers in traffic accidents in which your car is involved.
Even if you are not liable, you can claim on this insurance.
 
What is not covered?
Some key exclusions are:
damage to your own vehicle;
physical injuries sustained by the driver in a traffic accident;
damage caused during participation in competitions;
damage you cause intentionally.
 
Read this information carefully before taking out this insurance
For a concise description of the cover, the most important exclusions and other useful information, please refer to the product fact sheet.