Travel without a care in the world by sorting out your banking business and insurance before you go. Need to check whether you still have enough money in your account during your holiday? It couldn't be quicker or easier than with our tablet and smartphone apps. Happy holidays!
Complete our checklist before you pack
Travel cancellation insurance: check! But are you properly insured during your trip too? Find out using KBC Brussels Mobile if you have sufficient travel insurance.
Don't take too much cash with you. You should only take enough euros or foreign currency to pay for your first few purchases. Foreign currency is very easy to order via KBC Brussels Touch.
Check that your credit and debit cards will remain valid throughout your trip. If this is not the case, you should order new cards from your branch straight away.
Are you travelling outside Europe? If so, you should activate your debit card for use around the world. Are you heading to the United States, going on a cruise or renting a car? Activate your credit card for use in the US. You can do this in no time at all via KBC Brussels Mobile and KBC Brussels Touch. You can also check your spending limit while you are logged in.
Check that the balance on your account is enough to cover both your holiday costs and your regular standing orders without any problems. 
Keep important stuff like passwords, credit card numbers, travel documents and photos of ID cards safe and secure all in one place using your digital safe.

During your holiday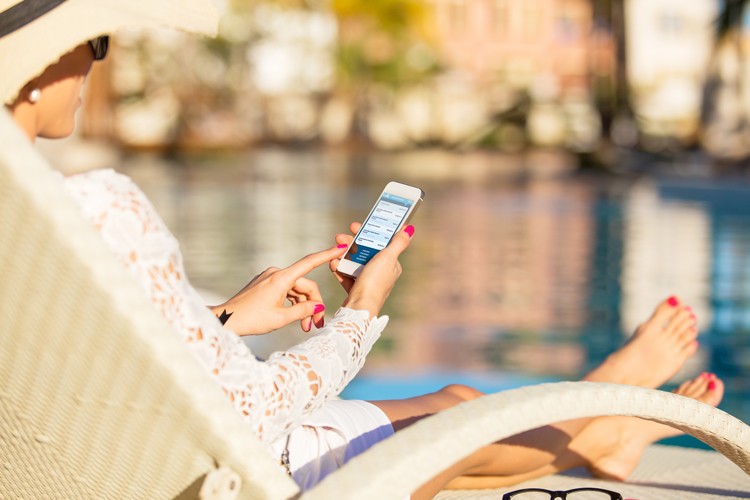 Do you want to check how much you've spent? Check your balance and top up your account using KBC Brussels Mobile on your smartphone.
Use public Wi-Fi networks to get online both at your destination and on your way to it. We protect our apps with ironclad security technology. Mobile banking with KBC Brussels is completely secure.
If you are insured with KBC Brussels and have an accident, you can report it straight away using KBC Brussels Mobile on your phone or KBC Brussels Touch on your desktop or laptop. Your message will be sent directly to the right contact person.
Stolen, lost or retained card? Act without delay and block your card with KBC Brussels Mobile. Tap the card you want to block, select Card Stop and follow the instructions. Alternatively, call Card Stop immediately on + 32 70 344 344 (charges apply). Card Stop will block your card and ensure you get a new one. Card Stop can be contacted at any time.
Back at home
In KBC Brussels Mobile and KBC Brussels Touch you can quickly see all the holiday expenses you paid for using your debit card and your credit card. If there isn't enough money in your account to pay off your credit card bill, you can transfer money from your savings account to your current account in real time.
Did you take any great photos on holiday? Upload one of your photos as a profile picture on KBC Brussels Touch and KBC Brussels Mobile. In KBC Brussels Touch you can also opt to have it printed on your debit card for a wonderful souvenir!