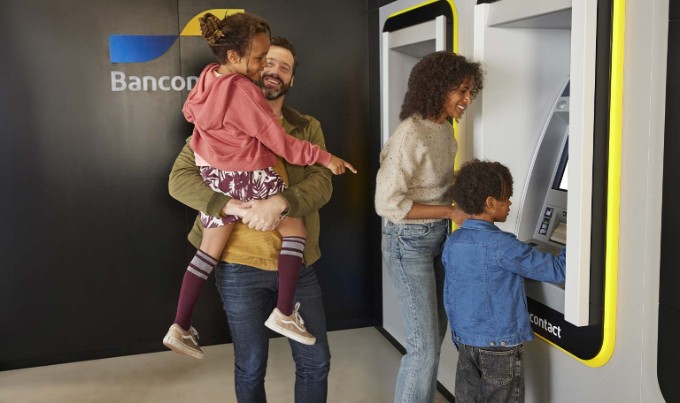 Bancontact CASH points: a new network of ATMs
Withdraw cash in shopping centres, hospitality outlets, public transport premises, etc.
Better distribution of ATMs (including in areas with no bank branches)
Supported by the big 4 Belgian banks

Why use a Bancontact CASH point?
More and more people are making digital payments because they're quick and secure. However, if cash remains an important payment method for you, you'll be pleased to hear that you can now also withdraw money from Bancontact CASH points. This brand new network of ATMs is supported by Belfius, BNP Paribas Fortis, ING and KBC. It will be rolled out in phases and fully installed by 2024. The ATMs are located where demand for cash is high, such as in shopping centres, places with many hospitality outlets or public transport premises.
Some additional info on Bancontact CASH points
You won't find them in bank branches but in places where demand for cash is high.

Find a Bancontact CASH point.
They are easily identifiable by their black, yellow and blue colour scheme and their Bancontact and CASH logos.

You can do the same at a Bancontact CASH point as you can at one of our ATMs.


Withdraw cash

All Bancontact CASH points
20 and 50 euro banknotes available from all CASH points, 5 and 100 euro banknotes available from some CASH points

Limits are the same as at KBC Brussels ATMs:
A standard 650 euros/day and 2 500 euros/week
A maximum of 2 500 euros/day and 10 000 euros/week
Charges: see rates & charges

Deposit cash

All Bancontact CASH IN/OUT points
All euro banknotes
Unsorted banknotes accepted
Amount is deposited into the account linked to your card
Deposits also possible with the KBC Brussels Limited Card
Free of charge for all KBC Brussels card holders
 

Change your PIN
Check your balance

You can still transfer money at the non-cash self-service terminals in the lobby of KBC Brussels Bank branches or by using our digital apps, KBC Brussels Mobile or KBC Brussels Touch.
All KBC Brussels customers can use Bancontact CASH points. They are very well designed, user-friendly and are also equipped with a voice guidance system to ensure that the visually impaired can carry out the full range of transactions too.

You can find Bancontact CASH points in the secure lobbies of buildings, in building walls and in kiosks. All locations meet strict security standards.

The new network is just as safe to use as the network of KBC Brussels ATMs, thanks to the cameras, alarm systems and other security measures in place.