Have you already been saving for some time now, but want to increase your return? Investments may offer a solution.
The next step after traditional savings and pension savings
Have you already set aside some money in a savings account and are you already saving for your pension? Then you can start investing in order to try and increase your return. However, it's not a way of earning money quickly.
Higher returns over the long term
It's best to invest with money you can do without, as there are risks involved. You can generally expect a higher return over a longer period of time, and you can also reduce the risk you run by investing in different investment products.
Something for everyone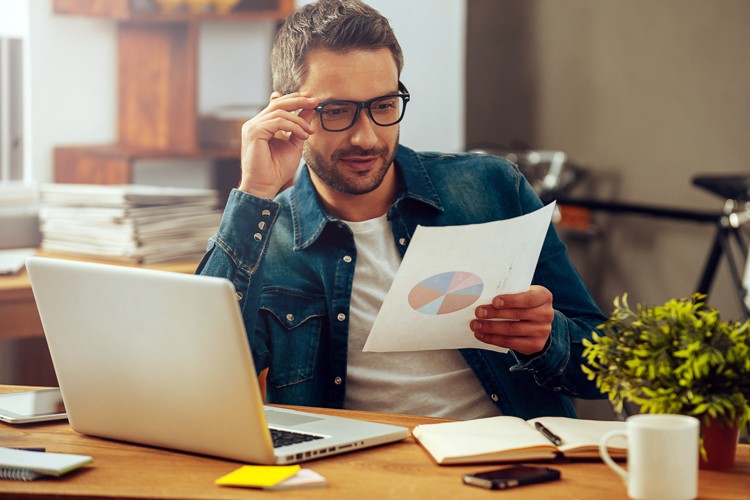 You can invest in a wide range of products, but it's important to gather enough information before you start. The product you ultimately choose will depend on your personal situation, objectives and preferences. People looking for higher returns will run greater risks, and vice versa. Your choice will also depend on your financial situation and knowledge.
Invest as a beginner
Avoid the pitfalls with practical tips from our financial experts
Find the type of investment that fits you with our handy guide
Download a free guide

Start as early as possible
If you can do without your money for a long period of time, it's best to start investing as soon as possible. After all, starting early allows you to make use of the power of capitalisation. That means adding the return from your investment to your capital instead of withdrawing it. This will also allow your returns from previous years to generate returns in turn.
Example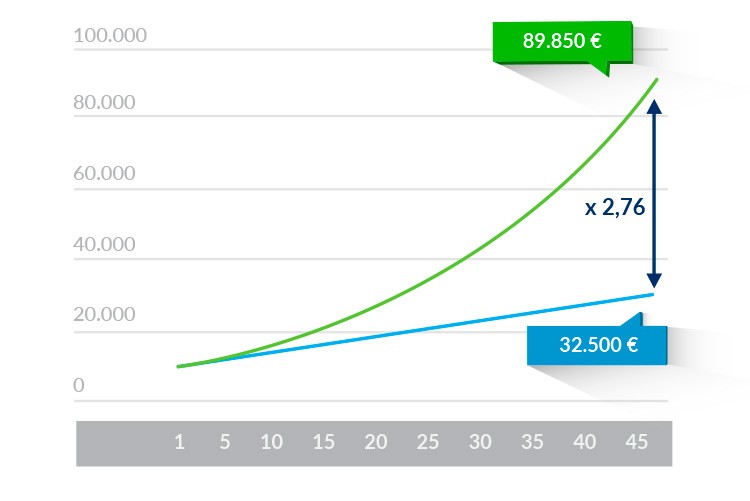 Blue line
You invest 10,000 euros and withdraw the 5% yield you receive each year. In this case, only the invested capital of 10,000 euros will generate returns. After 45 years, you will have 32,500 euros.
Green line
You invest 10,000 euros and reinvest the annual yield of 5% by adding it to your initial capital. After 45 years, you will have no less than 89,850 euros.
This simulation is purely illustrative and does not provide any guarantees of future returns.
Source: KBC Asset Management
Reasons to invest with KBC Brussels
Great performance
The performance of KBC Brussels' mixed funds is among the best on the market.
Effective know-how
KBC Brussels is known as an investors' bank and is the Belgian market leader in investment funds and investment-type insurance policies.
Highly accessible
Make an appointment in your KBC Brussels branch in order to start investing. You can also get started via KBC Brussels Touch or KBC Brussels Invest.
Huge product range
KBC Brussels has access to a very broad range of investment solutions, from time deposit accounts to investment funds, and introduces new investment opportunities every month.
Personalised advice
Try personal investment advice on your phone and find out quickly if investing is your thing. We'll suggest to you how to invest and save for things like your pension in keeping with your risk profile and budget.
Investments for everyone
What is a KBC Brussels Investment Plan?
Invest small amounts (starting from 25 euros)
Follow the steps in KBC Brussels Mobile to start investing in no time
Invest your spare change
Round up everyday payments from your account to the nearest euro. Once you've gathered up 10 euros, we'll invest it for you. See how it works!