After traditional saving and pension saving, the next step you can take to potentially boost your return is to invest. Investing isn't a way to earn quick money. It's best to invest with money you can do without, as there are risks involved. You can, however, generally expect a higher return over a longer period of time, and you can also reduce the risk you run by investing in different products. A good strategy is to start investing as early as you can. Read on to find out why.

Start as soon as you can
All investment literature stresses that it's best to invest for the long term. Most people think that the long term is important because it helps smooth out risks. Statistically speaking, there are more good than bad years on the stock market, which means that if you invest for long enough, positive effects will basically erase the negative ones.
While that's true, it's not the only reason for investing paying off in the long run. The main one is compound interest, or the interest-on-interest effect. Put simply, compound interest means that you earn interest on the interest you've already received. That results in an ever-accelerating exponential curve, which we can illustrate by providing a simple example.

Example of a compound interest graph
Suppose you invest 10 000 euros as a 25-year-old in the hope of having a tidy little nest egg to fall back on when you retire in 40 years' time. In this simplified approach, we have assumed an average return of 5% a year. If you reinvest your return every year, it can in turn generate more income. After 40 years, you'll end up with just under 70 000 euros, i.e. almost seven times your initial investment! The simplified graph below shows the exponential growth line.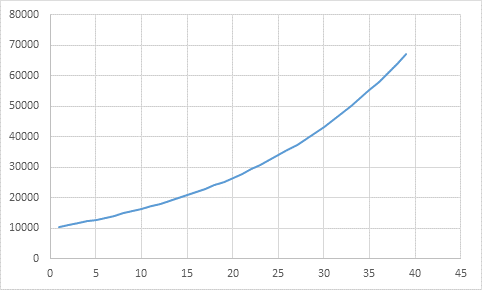 This forecast does not take account of any taxes and charges and is not a reliable indicator of future performance.

Source: KBC Asset Management
Taking account of the present level of interest rates, investment products will not actually generate a fixed return of 5% and you will also suffer occasional losses on the way due to price fluctuations. However, the principle still applies: when you reinvest your return over the long term, it could also in turn generate income itself. The above curve will be more volatile in practice due to price fluctuations and varying returns, but the effect in the long term will be much the same.
So, the real power lies in the duration, i.e. the longer you invest, the faster the curve can rise. You have the feeling in the first few years that little happens, but things really speed up in the final years. This is referred to as the 'snowball effect' (i.e. if you roll a snowball for long enough, you'll end up with a much larger one). The aim is to move as far as possible to the right of the curve. In other words, the earlier your snowball starts rolling, the greater the potential of collecting more snow along the way.

Reasons to invest with KBC Brussels
Great performance
KBC Brussels's balanced funds are currently among the best performers on the market for longer maturities (10 years and more).
Effective know-how
KBC Brussels is known as an investors' bank and is the Belgian market leader in investment funds and investment-type insurance products.
Highly accessible
Make an appointment in your KBC Brussels branch or contact a member of staff via KBC Brussels Live to start investing. You can also get started via KBC Brussels Touch and KBC Brussels Mobile.
Huge product range
KBC Brussels has a wide range of investment solutions, from time deposit accounts to investment funds, and comes out with new investment opportunities every month.

Interested in investing? We'll be happy to help you further.
KBC Brussels Investment Plan
You can invest periodically for as little as 25 euros a month. Investing this way is so easy that you can do it on your smartphone. Just set up an KBC Brussels Investment Plan in a few taps, where and when you want, and you're good to go. Click or tap below to discover all the benefits.
KBC Brussels Easy Invest Service
If you have a larger amount to invest and want to put it to work, simply sign up to the KBC Brussels Easy Invest Service and our specialised fund managers will do the rest. Tap or click below and find out all you need to know.
KBC Brussels Wealth Management Service
If you have a larger amount to invest but need some help on how to invest it, get the personal advice of a team of experts to ease the task. Find out more about our Wealth Management Service.