Breakdown assistance from VAB
If your vehicle has broken down, VAB's breakdown assistance is available 24/7 in Belgium and Luxembourg.
Vehicle assistance
Drive with peace of mind with the extensive cover in the event of theft, a breakdown or an accident.
Worldwide personal assistance while travelling
Hassle-free holidays with travel assistance cover for your whole family in case of illness or an accident.
What is KBC VAB Assistance?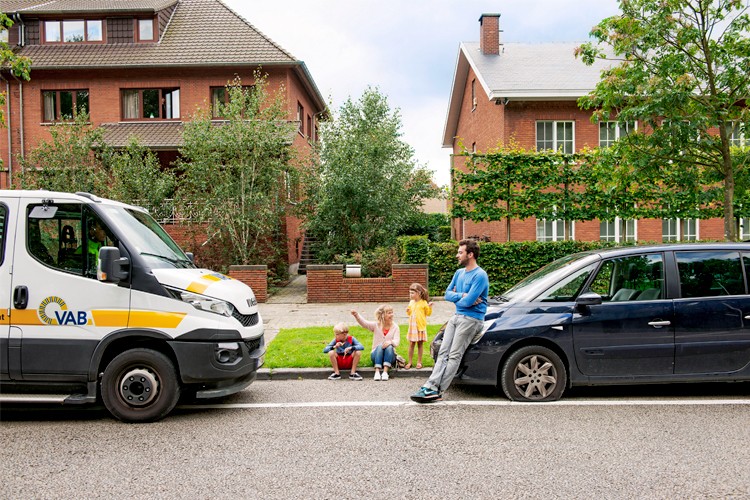 KBC-VAB Assistance is assistance insurance giving you:
24/7 VAB breakdown service for your vehicle in Belgium and Luxembourg
Comprehensive vehicle assistance with accident, breakdown and theft cover in Belgium and abroad
Worldwide travel assistance for your family with medical cover of up to 250 000 euros, regardless of your means of transport
Add replacement vehicle cover for extra peace of mind.

Enjoy extra benefits with VAB membership
Join VAB to get their free e-zine and pay less at the pumps with their fuel card. And that's not all. You also get access to some other greatbenefits and discounts from leisure partners.
What is covered?
VAB breakdown service
24/7 VAB breakdown assistance at your home or while travelling in Belgium or Luxembourg
Repairs on the spot or towed to the most appropriate garage 
Insured persons transported home
Comprehensive vehicle assistance
Get help following an accident, theft or breakdown, including abroad.
Insured persons brought back home 
Stolen vehicle returned to you if found
Breakdown assistance or towed to the most appropriate garage
Worldwide personal assistance
Travel assistance in the event of illness or accidents with medical cover of up to 250 000 euros
Help with other inconveniences like shipping clothing and personal travel items if your luggage is stolen
Replacement vehicle following an accident, breakdown or theft (optional)

What are the main exclusions?
Complications related to, or worsening of, an existing illness if you have not followed the treatment prescribed
Damage you cause intentionally
Participation in the paid or profitable practice of sports, including training.

KBC Brussels does not cover repair costs. We only reimburse vehicle recovery costs and the cost of shipping the replacement parts

The complete list of exclusions can be found in the general conditions.
Your car has broken down or was in an accident, in Belgium or abroad. You're on a trip, alone or with the family. Bad luck can strike anywhere. KBC VAB Assistance ensures that you need not worry when faced with an unforeseen situation.
See why you should be properly insured before hitting the road.
Good to know
KBC VAB Assistance in the KBC Vehicle Insurance for passenger cars offers personal and vehicle assistance insurance.
This product is governed by the laws of Belgium
The insurance provided by this policy is valid for one year It will be tacitly renewed, unless it is terminated no later than three months before the principal renewal date
Your intermediary is your first point of contact for any complaints you may have. If no agreement can be reached, you can contact KBC Complaints Management, Brusselsesteenweg 100, 3000 Leuven, complaints@kbcbrussels.be, tel. 016 43 25 94 (free number) or 078 15 20 45 (pay number), fax 016 86 30 38. If this does not result in a satisfactory solution, you can contact the Insurance Ombudsman, which acts for the entire industry, at De Meeûssquare 35, 1000 Brussels, info@ombudsman.as or visit www.ombudsman.as without prejudice to your right to take legal action.
To request a quote for a KBC VAB Assistance, contact your KBC Brussels Insurance intermediary.
KBC VAB Assistance is a product of KBC Insurance NV – Professor Roger Van Overstraetenplein 2 – 3000 Leuven – Belgium – VAT BE 0403.552.563 – RLP Leuven – IBAN BE43 7300 0420 0601 – BIC KREDBEBB
The company is licensed by the National Bank of Belgium, de Berlaimontlaan 14, 1000 Brussels, Belgium, for all classes of insurance under code 0014 (Royal Decree of 4 July 1979, Belgian Official Gazette of 14 July 1979).
Member of the KBC Group
For a concise description of the cover, the most important exclusions and other useful information, please refer to the product fact sheet
For a concise description of the cover, the most important exclusions and other useful information, please refer to the product fact sheet
Take out KBC VAB Assistance
Questions?