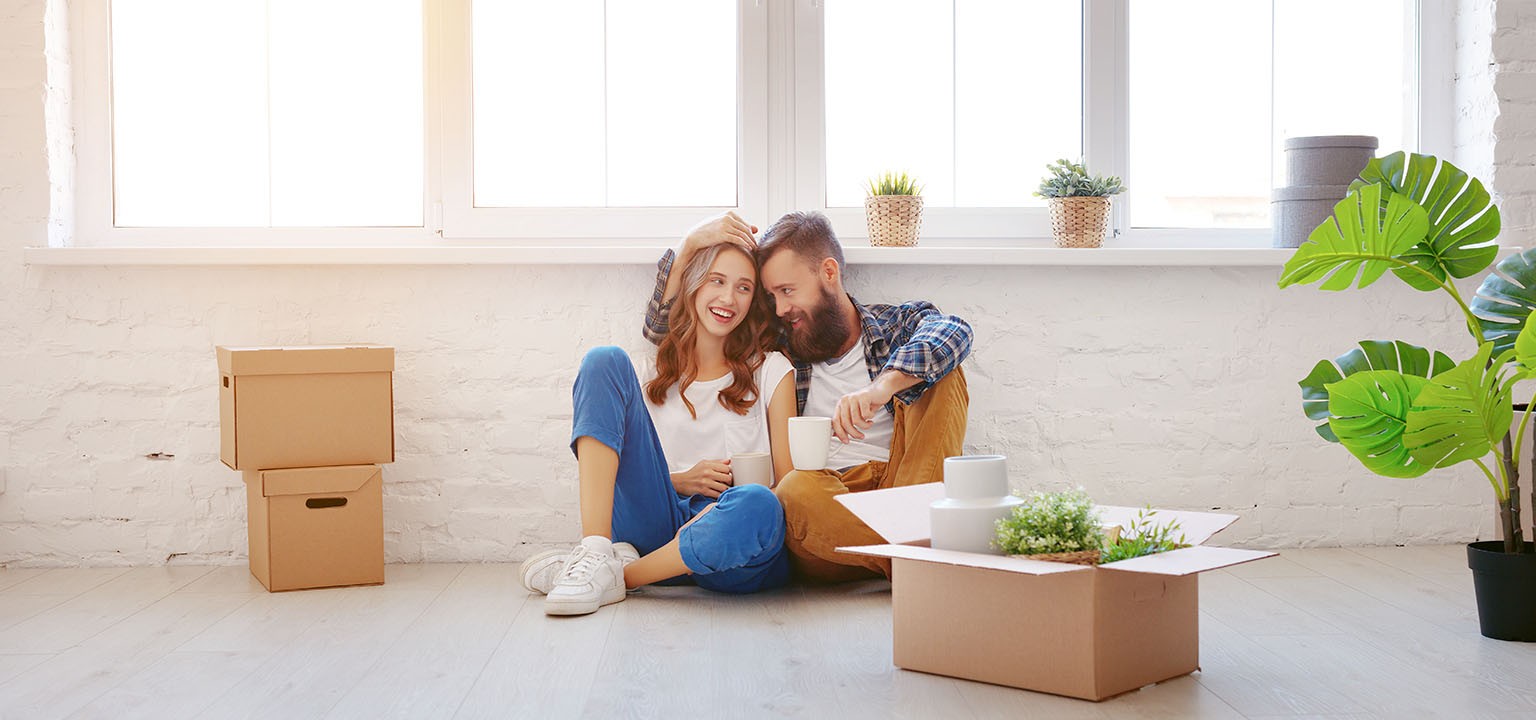 Renting a property: what you need to know
Planning on renting a house or flat? It's an exciting thought knowing you could soon have a place of your own to call home! But what do you need to know before renting accommodation? And what about insurance? These tips will help ensure you're properly prepared.

Carefully check your lease
Once you've found your dream home, you'll want to uncork the champagne! Before you start celebrating though, you should carefully go over your lease. This ensures you know everything up front and so avoid any unwelcome surprises.
Be sure to check the following:

The term: Most leases are taken out for a period of three years. However, you need to be careful here. If the term is not literally stated in your contract, the contract is valid for nine years. The length of your contract is also important for the period of notice you have to provide.


The rent: How much is the monthly rent and how should you pay it? The amount may not change over the entire term of the lease, but the landlord is entitled to index the rent once a year on the date the lease entered into force.


Additional costs: Do you have to pay to use any communal parts of the building? Is your water and energy use included in your lease? 


Contract registration: The landlord must register the lease within two months of it being signed. Keep a copy of your contract in a safe place so that you can reference it later if something crops up.
Did you know Kate can also help you with your security deposit and home insurance?
If you're looking to arrange a security deposit or home insurance, just tell Kate: 'I want to open a security deposit savings account' or 'I want to apply for home insurance'. You can find Kate, your digital assistant, in the top-right corner of KBC Brussels Mobile.

You are required to take out home insurance in Flanders and Wallonia. Although this is not yet the case in Brussels, it is strongly recommended all the same.
Home insurance covers certain minimum risks as laid down by law. Besides damage caused by fire, you are also insured against liability for any damage. What's more, you can insure the contents of your home against damage or theft.
Put your security deposit on a blocked account
When you rent a house or flat, you usually have to pay a security deposit after signing the lease. That protects the landlord if you (the tenant) fail to meet your obligations or cause damage. A security deposit, which can vary between one and three months' rent, is paid in addition to your first month's rent.
Never pay the security deposit in cash or by transferring the money to the landlord's account. The law stipulates that the security deposit must be put on a blocked account.
At KBC Brussels, you can open a security deposit account online in a matter of minutes. It's free and you don't even have to be a customer with us.
Good to know: If you're having trouble advancing your security deposit, you may be able to take out an interest-free security deposit loan with the housing fund in the region where you rent your accommodation.
A property survey has to be carried out when you start renting a property. A property survey is a document that details the condition of the property when you move in, including photos by way of clarification. Any defects should be listed in the survey, so as to clarify what was and wasn't damaged when you moved in.
You may need to pay a fee for the property survey, for instance if it is drawn up by an expert. If this is the case, the fee could be anywhere between 300 and 450 euros, to be divided between you and the landlord. Alternatively, you and the owner can jointly draw up an inventory, which costs nothing.

The period of notice in your contract depends on how long the contract runs for. If you have a short-term contract (three years or less), you will need to observe the three-month notice period and pay a termination fee. The amount of the fee will depend on your type of lease.
If you have a standard nine-year lease, you have a 3-6-9 contract.

That doesn't necessarily mean that the nine-year term will be completed. If you terminate your contract after one month, for instance, you'll have to pay a fee equal to three months' rent.

If you end the contract in the second year, you pay a fee equal to two months' rent and in the third year, one month's rent. The termination fee expires after three years, but the three-month notice period remains in place.
Tip: Always cancel your tenancy by registered letter. The period of notice starts on the first day following the month in which you sent the letter. For example, if you send the letter on 16 May, the period of notice starts on 1 June.

Good to know:
The KBC Brussels Security Deposit Savings Account is a regulated savings account offered by KBC Bank NV Belgium, and reserved for a security deposit.
It is governed by the laws of Belgium. Be sure to read the information at kbcbrussels.be/security-deposit-savings-account before opening the account,
as well as the key information for savers. This information is also available from your KBC Brussels branch.

You can submit any complaints you may have by e-mailing complaints@kbc.be, by calling 016 43 25 94 and/or by sending an e-mail to ombudsman@ombudsfin.be.
Features of a KBC Brussels Security Deposit Savings Account
Interest earned



Current rate: 0.45% base rate of interest and 0.45% fidelity bonus. 
These gross rates are expressed on an annual basis and may change at any time. Current rates are always given here or can be obtained from your KBC Brussels branch. If rates change, we will inform account holders of this by post or through one of our digital channels.
Savings start earning interest at the base rate on the first calendar day after the transaction date and cease to earn interest from the calendar day on which they are withdrawn. The fidelity bonus is awarded for amounts that remain on the savings account for 12 consecutive full months.
 
Tax efficient
Individuals are exempt from withholding tax (currently 15%) on the first 980 euros euros of interest earned each year (2023 figure).
Free of charge
There are no charges for opening and managing the account.
Open-ended
The KBC Brussels Security Deposit Savings Account is an open-ended product. The security deposit agreement linked to this account remains in force until the security deposit savings account is closed.
Risks



Insolvency risk: a maximum of 100 000 euros of your aggregate deposits with KBC Bank are guaranteed per person, subject to certain conditions. In the event of KBC Brussels's insolvency (e.g., if it goes into bankruptcy), you run the risk of losing any deposits you have over 100 000 euros, or their amount could be reduced or converted into shares. You can obtain a copy of our 'Protection of deposits and financial instruments in Belgium' brochure from your KBC Brussels branch or from www.kbcbrussels.be/depositprotection.


Inflation risk:

this savings account also has an inflation risk, as sustained price increases can result in the amount deposited losing value.



More information about the KBC Brussels Security Deposit Savings Account
Please read these documents before opening a security deposit savings account.
What you need to know about the KBC Home insurance for tenants
KBC Home insurance for tenants may include one or more of the following types of insurance cover: tenant's insurance, home contents insurance, theft insurance for home contents, soil decontamination insurance (home insurance) and legal assistance insurance for tenants (legal assistance insurance). These forms of insurance cover are designed for tenants of private homes. No commercial activity or liberal profession is carried out in the insured home.
This product is governed by the laws of Belgium.
The different forms of cover in this policy apply for a term of one year and will be tacitly renewed, unless the policy is terminated no later than three months before the principal renewal date.
Your intermediary is the first point of contact for any complaints you may have. If no agreement can be reached, please contact KBC Complaints Management, Brusselsesteenweg 100, 3000 Leuven, complaints@kbc.be, tel. 016 43 25 94. If you cannot find a suitable solution, you can contact the Belgian insurance industry's ombudsman service: Ombudsman van de Verzekeringen, de Meeûssquare 35, 1000 Brussels, info@ombudsman-insurance.be, www.ombudsman-insurance.be. This does not affect your legal rights.
Contact your insurance expert or visit our website to request a quotation for KBC Home insurance for tenants.
KBC Home insurance for tenants is a product provided by KBC Insurance NV, Professor Roger Van Overstraetenplein 2, 3000 Leuven, Belgium.
VAT BE 0403.552.563, RLP Leuven, IBAN BE43 7300 0420 0601, BIC KREDBEBB.
Company licensed by the National Bank of Belgium, de Berlaimontlaan 14, 1000 Brussels, Belgium, for all classes of insurance under code 0014 (Royal Decree of 4 July 1979, Belgian Official Gazette of 14 July 1979).
Member of the KBC group
What's covered?
Damage caused by fire or explosion
Water damage
Storm, hail or lightning damage (like lightning destroying electric appliances or a storm or heavy winds damaging your garden furniture)
Natural disasters such as floods and earthquakes
Damage caused by a collision
Vandalism or (attempted) theft in your home or even objects outside your home, such as your electric bike parked in your driveway
Pets (insured everywhere)
Damage to fixtures or improvements you made to the home as a tenant, at your own expense (like when your garden shed is damaged during a storm)
What's not covered?
Typical rental damage caused, for instance, by wall plugs or limescale on sanitary fittings
Damage caused by pets
Typical rental damage caused, for instance, by wall plugs or limescale on sanitary fittings
Damage caused by pets

Loss or deliberate damage
Damage caused by:

Instability of the sub-surfaces of structures built less than two years ago, or of terraces and driveways
Groundwater or precipitation that has seeped inside due to your cellars or exterior walls not being waterproof
Works
Correction of construction flaws
Theft of or from a vehicle that is parked elsewhere than at the address which is insured
Note that our all-risks cover for the contents does not apply to unique objects such as antiques and artwork. We recommend our specific 'Valuables' cover for this purpose. For further information, please contact your Insurance Expert.
This list is not exhaustive. See our product fact sheets below for full details of what is and isn't covered.
Read this information carefully before taking out this insurance