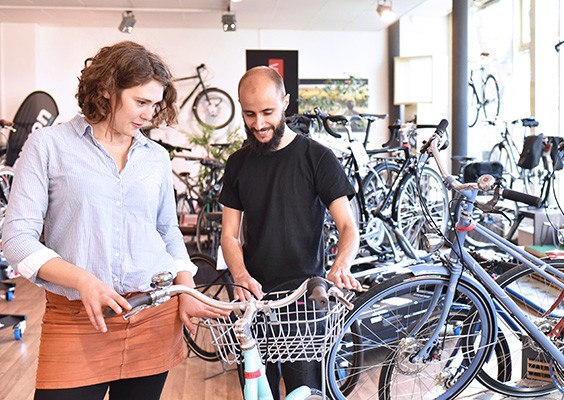 Bicycle or scooter loan
Over 80% of our customers apply for this loan online

Competitive rate of 4.19%
Get your loan at our top-value rate
Bicycles or scooters

Calculate your loan online and apply right away

Why go for a bicycle or scooter loan with KBC Brussels?
The beauty of an electric bike (or e-bike) is that you cover the distance to work much more quickly. A good racing bike or mountain bike allows you to glide up and down hills with ease when you're out cycling. And a scooter gets you around the city in no time. But, of course, decent bikes come with a serious price tag. However, KBC Brussels's bike or scooter loan is a great solution if you're set on buying your dream bike.
Learn more about our bicycle or scooter loan
If you want to finance your new purchase, it might be more attractive for you to take out an instalment loan, which avoids you having to dip into your savings. KBC Brussels offers a customised loan for your new bicycle.

Take out a bicycle or scooter loan for any type of new or used bike or scooter (including e-bikes, cargo bikes, racing bikes, mountain bikes, folding bikes and e-scooters). You can borrow from as little as 500 euros. Your repayments are monthly, spread over at least one year.

For example: You have your eye on an e-bike costing 1 800 euros. However, you don't need to borrow quite that much. You decide to take out a bicycle loan of 1 500 euros and pay it off over 24 months. In that case, you'll pay a little over 63 euros each month.

 
Our KBC Brussels Touch andKBC Brussels Mobile let you easily work out and apply for your loan. They give you a personal rate right away, just like we do at your branch. We make it easy! Don't take our word for it though. Ask the more than 80% of our loan applicants who've requested their loan online. Have questions or need advice? Our KBC Brussels Live is there for you.

Our Touch and Mobile apps also show you full details of your loan. See quickly:

How much you have left to pay off
When your next repayment is due
How long your loan still has to run and what you pay each month


You don't need to have a current account with us to apply for a bike loan. Simply work out your bike loan with us on our website.

Do a quick calculation of how much you'd pay off

If you'd like to know how much you would pay off each month, you can use our simulator to calculate your loan. Test out a range of different scenarios. If you are happy with our offer, you can secure your loan online at a time that suits you.
Do you commute on your bike? If so, you can recoup what you've spent on your brand-new bicycle in no time, thanks to a tax-free bicycle allowance*.

How does it work? It's simple. Your employer pays you 0.23 euros for every kilometre you cycle. And that soon mounts up. For instance, cycling 20 kilometres to and from work on your electric bike or regular bicycle results in an allowance of 4.60 euros per day. If you do that 220 days a year, you'll end up pocketing 1 012 euros. If you took out a bicycle loan of 1 800 euros, your cycling will generate that amount in less than two years.

*Bicycle allowances are perks. Employers can decide whether or not to grant them and can also specify the amount.  
From folding bikes to e-bikes, our bicycle insurance gives you worldwide cover against theft and damage. Learn more now.
* Bike or scooter loan details (instalment loan)