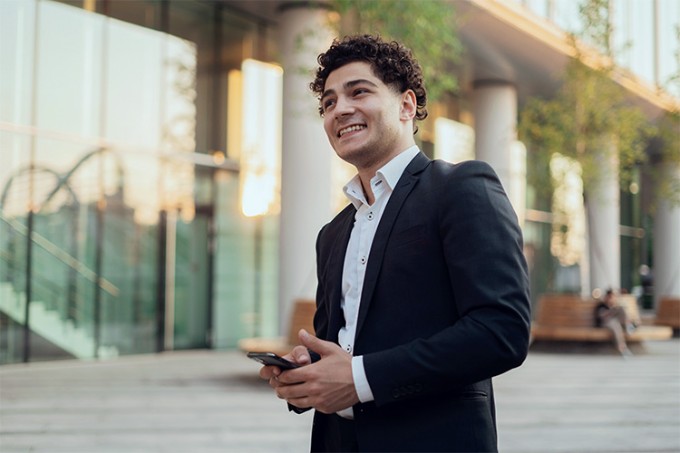 Invest the smart way with strategy funds
Investing made easy for you 
Invest the easy way and let our experts do the work for you
Keep a close eye on your investments in KBC Brussels Mobile
Invest more or gain access to your money – the choice is yours
What is smart investing?
Smart investing means getting an investment and advice from KBC Brussels. Our experts make investing easy for you thanks to our strategy funds. They'll suggest an investment fund based on how sensitive you are to stock market volatility and then start doing all the work for you. Because a fund is diversified and invests in different products and companies, your risk is better spread out.
How does smart investing work?
We assess your personal situation and sensitivity to financial market volatility in KBC Brussels Mobile or KBC Brussels Touch. Based on this assessment, we will suggest a suitable strategy fund for you.
A team of specialised fund managers from KBC Brussels Asset Management will then actively manage your investment on a daily basis, ensuring your investment portfolio remains as evenly balanced as possible by offering protection when necessary and making the most of any opportunities to generate return when possible.
Why opt for smart investing?
Flexibility in investing
You decide whether you want to invest a fixed amount each month, a lump sum or a combination of both. If you want to invest a bit more or less, you can do so at any time. What's more, you can always access your money within a couple of business days.
Transparent investing
You can easily keep track of your investments in KBC Brussels Mobile and KBC Brussels Touch thanks to clear overviews, reports and other information. That ensures you always know how your fund is doing.
Responsible investing
You can also invest responsibly by letting our experts invest in companies and countries that take account of our environmental, social and governance criteria.
Learn more about smart investing
Does the adrenaline rush of the markets keep you awake at night? If so, we suggest an investment solution that quickly responds to fluctuating stock markets so that any risk is limited. Do you keep your cool even when the markets are extremely volatile? Then we suggest a fund that allows that kind of fluctuation.

You always have up-to-date information in KBC Brussels Mobile and KBC Brussels Touch. You get:

A useful overview of how your fund is performing
Newsflashes about the markets and how they impact your fund
Invitations to webinars that explain our approach and answer your questions
You can start investing from as little as 25 euros a month, but you can also opt for a lump-sum investment or a combination of both. How much you invest is entirely up to you, not only when you first buy into the fund, but also for subsequent amounts you put in.
Interested?
Don't delay! Start investing the smart way now. If you require more information, feel free to contact your branch or the experts at  KBC Brussels Live.  
These investment solutions cover a specific range of funds. A list is available from our advisers. You can invest in an investment fund or a unit-linked life insurance (class 23) product, or combine the two. The term 'investment fund' refers to a sub-fund of an open-ended investment company under Belgian or Luxembourg law, or a mutual fund. Unit-linked life insurance (class 23) is the generic term given to life insurance in which the premiums are invested in one or more investment funds without any guarantee of a return. If these terms are unfamiliar to you, don't worry, your adviser will be happy to explain.