Brussels, capital of Europe. Brussels, home to institutions. Brussels, increasingly cosmopolitan. And even more densely populated! To cope with the population boom, property developments are becoming more widespread in the capital. Not just in the trendy southern neighbourhoods. But also in up-and-coming areas in the centre and north. All make an attractive investment at a time when mortgage rates are particularly low and traditional savings bear little interest. Quick overview of buying a home. 
New builds: new interest from the baby boomers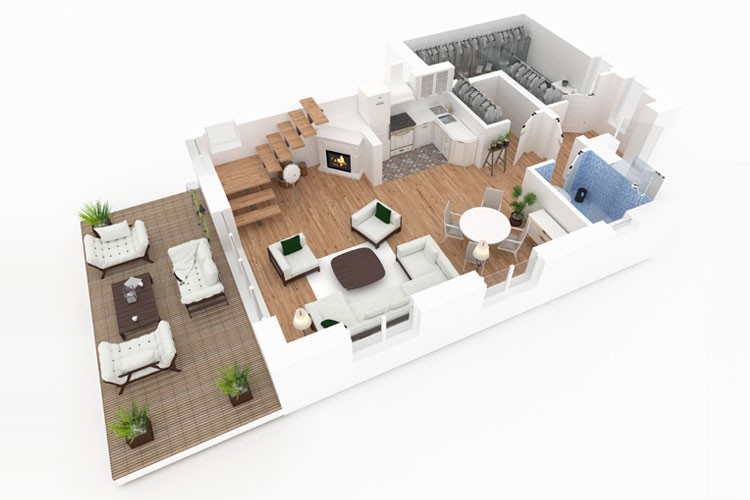 Not so long ago, new homes in Brussels mainly attracted pensioners who, after selling a primary residence that had become too big for them, decided to downsize to a place better suited to their needs, using the capital gain to fund their retirement or donate to their children.
However, a new trend is encouraging more and more baby boomers to buy new builds, with a clear idea in mind.
"People in their 50s are still young, active and independent. They see new builds as a way of adapting their living space for the next 30 or 40 years. Today, changes in the property market allow for the adjustments needed to meet people's needs and desires at different stages of their life," explains Gilbert Aelbrecht, director of the Immobilier Neuf branch focused on luxury builds and off-plan selling.
Uccle, the discreet charm of the bourgeoisie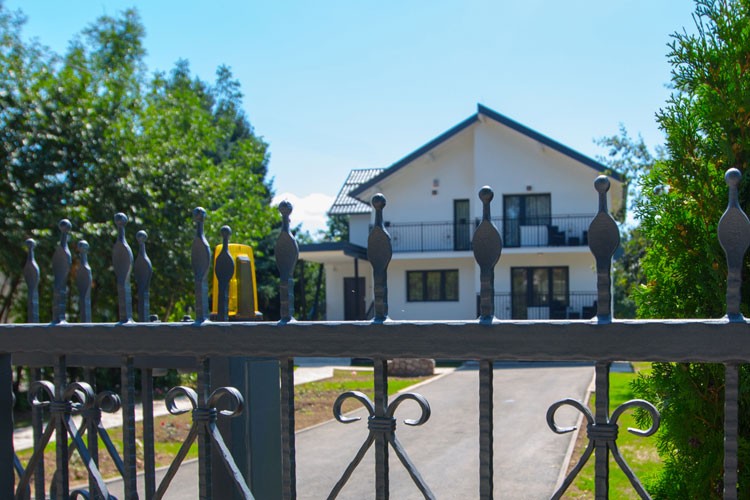 Taking TREE as an example, a new development of modestly sized homes located in Uccle, in the Prince d'Orange district, Gilbert added: "Ucclois locals rarely leave their district. Its wild beauty and excellent social life attract plenty of newcomers. TREE meets their expectations: luxury and comfort in a privileged area, at an affordable price. But above all, the technical design of these apartments allows for modular living according to the future make-up of the household."
Unsurprisingly, the neighbourhoods most sought after for this kind of property are mainly the greenest and least densely populated areas: Uccle, Watermael-Boitsfort and the two Woluwes.
Ixelles: the village within a city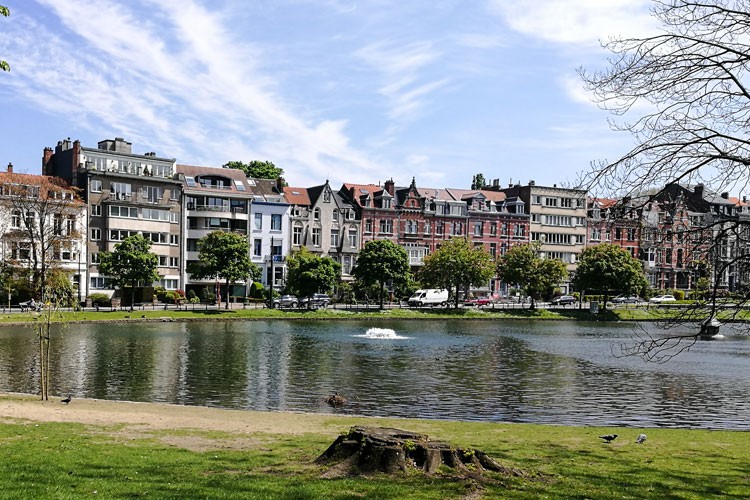 Of the 19 Brussels districts, Ixelles is currently the most expensive. Brugmann, Châtelain, Molière and Etangs are names that affluent buyers will be very familiar with. Of course, the district's strong appeal to French expats (there are nearly 11,000 of them in Ixelles) may have something to do with the rise in prices: the average single-family house sells for more than 600,000 euros, while new apartments go for around 3,400 euros/m2.
The secret of this success? The central location around Avenue Louise, close to the Bois de la Cambre – the green heart of the city – and the Louise-Porte de Namur neighbourhood, known for its upmarket shops. Then there is the architecture, focused on early 20th century townhouses and other apartments reminiscent of the Haussmannian boulevards of Paris. The district also has its own special atmosphere. A sort of lively urban village, there are a number of trendy bars and restaurants, parks, squares and water features with undeniable charm.
While it is increasingly difficult to buy new property, renovation jobs sometimes emerge. But you'd better be quick off the mark!
Saint-Gilles: Ixelles' (future) little sister?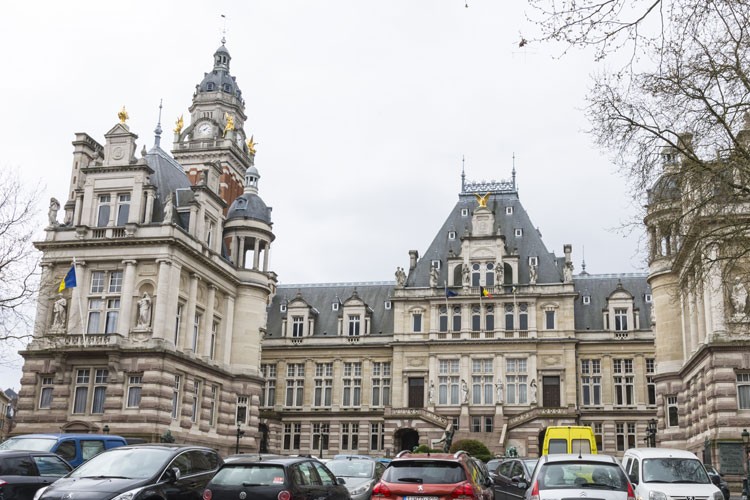 With good deals becoming increasingly rare in Ixelles, many aspiring homebuyers are starting to fall back on the upper part of Saint-Gilles. This area shares lots of qualities with its neighbour: a village atmosphere with a vintage-boho feel (and all the shops to match), proximity to the city centre (and high-speed train station!), pretty squares and parks, and a protected early 20th century architectural style featuring quite a lot of Art Nouveau and similar buildings.
There are more homes for refurbishment than new builds (especially townhouses divided up into apartments, to be turned into single-family homes full of character), but the projects emerging in the area are growing in quality and are more respectful of their architectural surroundings. The result is that the average price of apartments in Saint-Gilles rose by 15% in 2016 to around 235,000 euros (Brussels average: 233,000 euros). A single-family house generally costs more than 450,000 euros.
Ganshoren and Jette: the northern districts coming to life
These two neighbouring districts in the north-west of Brussels have something in common: particularly attractive real estate prices. It's possible to find houses for about 300,000 euros and apartments for around 150,000 euros. Add to this the numerous green spaces and good transport links to the city centre, and it is easy to understand why young couples are increasingly keen on settling in Jette and Ganshoren.
Although refurbs dominate the market (especially in Ganshoren, the second smallest district of Brussels), quite a few new homes are under construction, especially small blocks of functional, environmentally friendly and affordable flats.
The "Plan Canal": the value of water gets higher in Brussels!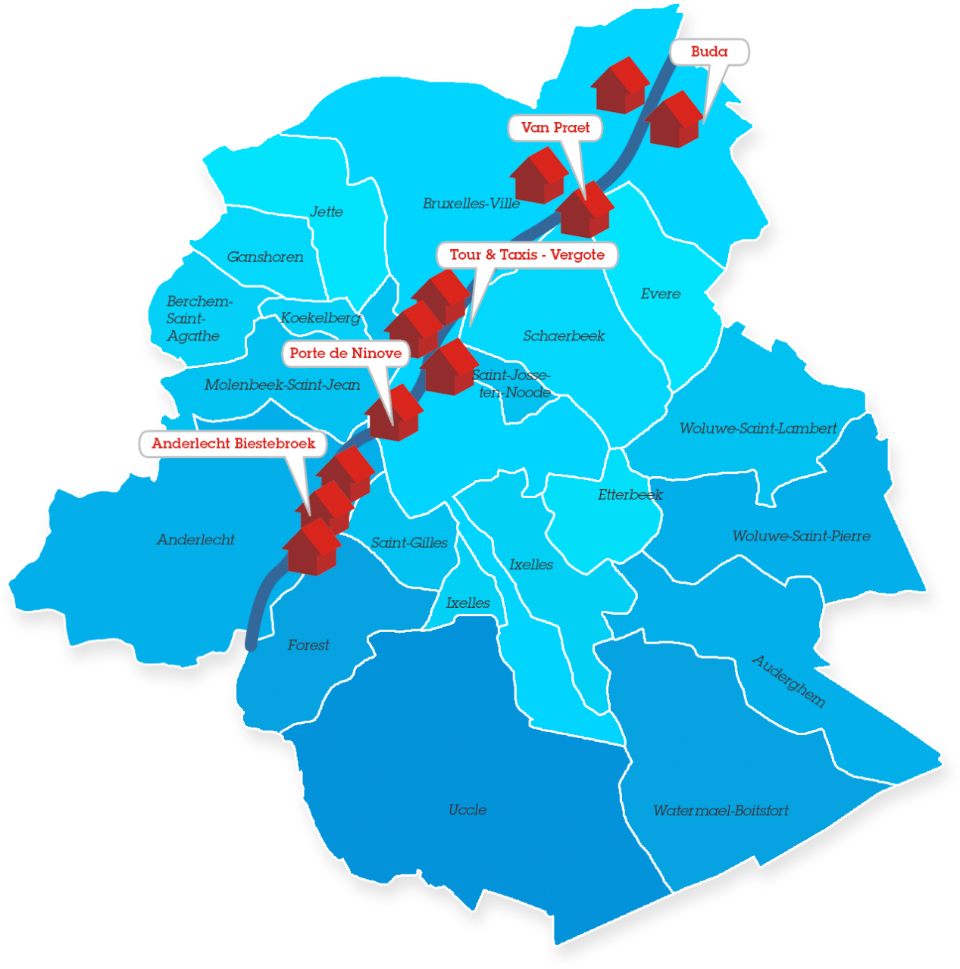 For many residents, Brussels is missing something important: a river. Ever since the Senne was covered up to make a sewer, there has only really been the canal for boats to travel along. It doesn't have the charm of the Seine, Thames or Tiber, but nonetheless it meanders from the west to the north of the city, passing through Anderlecht, Molenbeek-Saint-Jean, Bruxelles-Ville, Laeken and Neder-Over-Hembeek, covering no less than 14 km between the Western ring road and the Buda bridge. Several initiatives have already added a touch of lustre, such as the organisation of Brussels Beach on the canal bank in summer.
The launch of a canal plan in 2013, which includes numerous property developments along its route (under consideration, in progress, completed or near-completed), could shake up the appearance of these neighbourhoods, and bring water back to the city's forefront. Originality of the project A real urban vision, promoting socioeconomic diversity based on the even distribution of homes, shops, services (schools, retirement homes, etc.) and businesses. Here are the main projects, within a short boat ride of each other.
Anderlecht : the Biestebroek sector
The banks of the canal in Anderlecht are home to the largest number of projects. No fewer than 61 hectares are involved, with 41 allocated to housing. Examples include City Dox (Atenor), Rivand (Boghossian), Citygate I and II (Citydev and SLRB) and Nautilus (Eaglestone).
Porte de Ninove
Apart from a complete redevelopment of public areas, introducing a park and green spaces, three big property developments should revitalise a district of Brussels that hitherto had little to offer. The first of these (Mo-Ka, led by Besixred) concerns the construction of around 300 apartments with underground parking.
Tour et Taxis and Bassin Vergote
This is the best-known location and is also the site of the largest number of projects. Apart from Tour et Taxis itself, which has seen the emergence of new offices and which has plans for sustainable housing and eco-citizen areas such as allotments, there will be a new Museum of Modern and Contemporary Art in the old Citroën buildings (an exhibition from the Beaubourg museum in Paris is already scheduled), a footbridge between the two canal banks (Picard footbridge), and several housing blocks (Canal Wharf by AGRE – 300 homes, and Q8 on the Extensa land – 150 homes). This is also where the Up-Site Tower has been built, with most apartments being snapped up quickly.
The North (between Van Praet and the Buda bridge)
Several developments are underway around the Docks shopping centre near the Van Praet bridge. Further to the north, the Solvay site is set for a large development. There are also plans for the Schaerbeek Formation, Yacht Club and Euroveiling sites.
A taste for real estate investment?
Historically low mortgage rates, a proliferation of property developments in Brussels, savings bearing little interest, and rising house prices in the capital are all encouraging more and more investors (or potential homebuyers) to consider purchasing new property in Brussels.
Tempted?  Apply for a mortgage now!
Arrange a meeting with a KBC Brussels expert, someone who knows the ins and outs of the city. They also have good contacts and know about the specific tax benefits of living in Brussels.