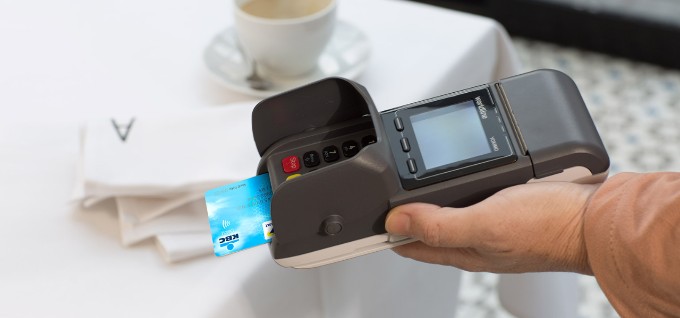 KBC Yoximo
The payment terminal that's easy to use inside and outside your premises, including when you're on the road
Handy on- and off-premises
Operates via Wi-Fi or mobile Internet (4G)
Choice of renting or buying
Receive payment anywhere
KBC Yoximo is a portable payment terminal that lets your customers pay in and around your premises or when you're on the road, thanks to the device's 3G, 4G and Wi-Fi capabilities.
What's more, your customers are free to decide whether they want to pay contactless using their card or with their phone. Payment goes through extremely quickly, is secure and is convenient not just for you, but for your customers too.
The device's integrated printer makes it easy to bill your customers. You also have a clear idea of your income at all times, which ensures your accounting stays on track.
Should I rent or buy a payment terminal?

Regardless of what you decide to do, the following is always included:

a countertop terminal with printer
a technical support contract and software licence for the payment terminal
a subscription for having debit card (Bancontact, Maestro, Mastercard Debit, VPay and Visa Debit) and credit card (Mastercard and Visa) transactions processed
Which cards can I accept in my business?

That depends on your requirements. The cards you decide to accept also have an impact on how much your payment terminal ends up costing you. You're always free to change your choice of cards afterwards. You can choose from:

Bancontact, Maestro, VPay, Mastercard Debit & Credit, Visa Debit & Credit, American Express, JCB, Diners, etc.
Electronic eco vouchers
e-ID cards
Electronic meal vouchers
Can customers pay contactless at the payment terminal?

KBC Yoximo makes it easy for your customers to pay contactless. The screen of the payment terminal is equipped with an NFC reader. All your customers have to do is hold their card close to it. It's the quick and smart way to pay!
How can I order a KBC Yoximo terminal?

If you're already with KBC Brussels, your application will be fast-tracked. Complete the application form or contact KBC Brussels Live. As soon as your contract is ready, you can sign it easily online in KBC Brussels Touch, KBC Brussels Mobile or the KBC Brussels Business Dashboard.
Need help installing the device?

You can ask KBC Brussels to send round a technician to assist you (this service incurs an additional charge).
Where can I find information on my transactions (such as payments made or a summary of sales)?

You can view things like your most recent transactions, daily totals and transaction overviews, within a certain period. More information on how to do that can be found on the Wordline website.
Is technical support included in my subscription and what should I do if I have a technical problem?

Check out the table below to see the type of technical support that's included in your subscription.
If a card occasionally proves difficult to read or payments go through slowly, contact Worldline or use your technical support option.
I can't find the answer to my question?
How much does it cost?
The cost of a payment terminal is divided into two parts:
The cost of the actual terminal:
 

Standard rental

Advanced rental package
Purchase
KBC Brussels price (including discount, excluding VAT)
39.29 euros
51.29euros
599 euros
How it charges up

With a standard charger

Via a charging station

With a standard charger

 

Technical support

Call centre available 5/7 from 8 a.m. – 5 p.m.

On-site assistance within 3 working days

Call centre available 7/7 from 8 a.m. – 8 p.m.

On-site assistance within 24 hours

Call centre available 7/7 from 8 a.m. – 8 p.m.

On-site assistance within 24 hours (first year free of charge, then 14.95 euros/month)

Installation costs
Plug & Play: free of charge

On-site installation by a technician: 85.75 euros
Plug & Play: free of charge

On-site installation by a technician: 85.75 euros
Plug & Play: free of charge

On-site installation by a technician: 85.75 euros
Mobile Internet charges
7.53 euros/month
7.53 euros/month
7.53 euros/month
Transaction charges:
This cost depends on several elements, such as whether the customer pays with Bancontact or an international card.
Get an added bonus
KBC Yoximo gives you the added bonus of a three-month trial period. This means that, when you rent the terminal, you don't pay any rent during the first three months. If you have bought the device, you're entitled to cancel the purchase at no charge within this three-month period.
More information