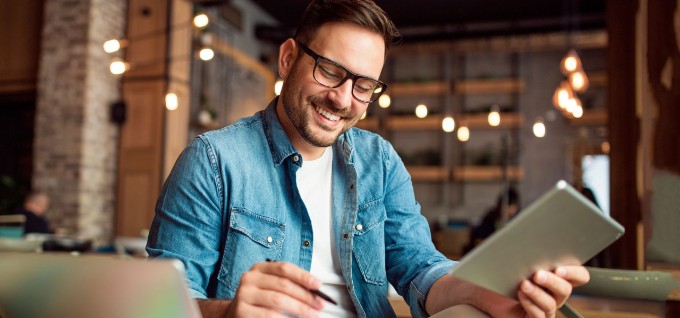 KBC Brussels Tax Pre-Payment Plan
Pay your taxes without any worries
Never forget your pre-payments again
Tax-deductible

Take out your tax pre-payment plan online

Have you forgotten your tax pre-payments on occasion in the past? Paying the right amount at the right time can mean big savings. Find out more about the KBC Brussels Tax Pre-Payment Plan to enjoy all the tax benefits.
Why are pre-payments a good idea?
The tax authorities send you a letter every year in spring to offer you the opportunity to make pre-payments. In order to encourage companies and the self-employed to pay their taxes as the tax year progresses, the legislator imposes a tax increase if insufficient pre-payments have been made.
A second advantage of pre-payments is the tax benefit or tax relief it offers for the self-employed and liberal professions. If you pay 106% of the taxes you owe in advance, the tax authorities will give you tax relief. Find out how the tax authorities calculate this tax relief.
Tax surcharges
The tax surcharge is set at 2.25 times the base rate of interest rounded down to the lower unit.

For assessment year 2022 (income year 2021), the base rate is 3% for companies and, therefore, the surcharge is 6.75% (3% x 2.25).
Example: a company is liable for tax of 50 000 euros but makes no pre-payments. Simple arithmetic then tells you that a hefty tax surcharge awaits you in a sum of 3 375 euros (2.25 x 3% = 6.75 % x 50 000 euros).
For unincorporated sole traders, a basic interest rate of 2.25% applies. Only 90% of the surcharge is taken account of last year.

Tax abatement or tax relief
If an unincorporated sole trader makes higher pre-payments than was necessary to avoid a tax surcharge, there is an entitlement to tax relief (a tax abatement). 
For tax years that are the same as calendar years, pre-payments will have the following benefits:

| | | | |
| --- | --- | --- | --- |
| Latest pre-payment dates for the financial year starting on 1 January | Benefit percentages for companies | Benefit percentages for individuals | Reduction percentages  |
| 12 April | 9.00% | 3.00% | 1.5% |
| 12 July | 7.50% | 2.50% | 1.25% |
| 11 October | 6.00% | 2.25% | 1.00% |
| 21 December | 4.50% | 1,75% | 0.75% |
What is a tax pre-payment plan?
The tax authorities encourage the self-employed, members of the independent professions and companies to pre-pay the tax on their earned income.
With the KBC Brussels Tax Pre-Payment Plan for Business Purposes, you can pre-pay your taxes without upsetting your financial equilibrium. It's up to you to decide when you want to pre-pay your taxes. We will draw up a pre-payment plan tailored to meet your needs and take all the worry out of tax pre-payment.
The benefits
You to decide when you want to pre-pay your taxes
Your tax pre-payments are made on time
You can spread your repayments over time
You keep your funds free for other purposes and your cash resources intact
The interest is tax-deductible
Never forget your pre-payments again
By pre-paying your tax, you avoid the surcharge imposed by the government. The beauty of a KBC Brussels Tax Pre-Payment Plan  for Business Purposes is that it eases the burden of making these payments.
KBC Brussels pays the government on your behalf at the most advantageous time
The interest charged on the finance is fully tax-deductible
A pre-payment plan geared to your situation
The repayments to KBC Brussels can be spread to suit your personal financial situation
You spread the tax burden over the whole year as a result
Extra tax relief for individuals (natural persons)
If you pre-pay more than necessary, the tax authorities will grant you a tax rebate on top of the tax benefit.
Apply for your tax pre-payment plan using KBC Brussels Touch, KBC Brussels Mobile or KBC Brussels Business Dashboard
* Decisions on business credit facilities of up to 150 000 euros should be available within 24 hours of applying online or by appointment, provided your application is complete.