From A to Z
Our experts will help you secure your subsidies, from application to payment.
Profitable
A service that offers you an immediate Return on Investment.
Home in Brussels
A service based on 25 years' experience and expertise in Brussels
Subsidia@KBC Brussels focuses on all the subsidies you're entitled to
Sometimes you have to invest to improve the profitability of your business. Planning a project in Brussels? There are sure to be subsidies out there for you! Subsidia@KBC Brussels will help you get them. Our experts give you the advice and information you need to secure the subsidies that will get your project up and running. Applying for a subsidy can be complex. Our experts will help you complete the paperwork, from beginning to end. Subsidia@KBC Brussels is an excellent way to optimise your future investments.

Also watch our comprehensive webinar
Investing in Brussels? Do it the smart way!
Say you're looking to invest in a new branch of your business in Brussels. There are subsidies out there to help you. But to apply for them, you'll have to fill out a whole series of forms. And with everything else you have on your plate, you might not manage to submit them all within the required time... All of a sudden, it's goodbye subsidies! Around 50% of potential applicants don't receive the aid they're entitled to.
That's why KBC Brussels now offers the Subsidia@KBC Brussels service, which will help you secure the subsidies you need for your investments. So you don't have to worry about the red tape that comes with these applications.


What sort of amounts can you apply for?
In the case of general investments, you could benefit from subsidies covering up to 30% of your expenditure. This aid consists of a basic amount plus supplementary grants, all subject to a maximum ceiling. The subsidies you can receive depend on the following parameters:
the location of the investment in Brussels
the size of your business
the type of investment


Potential subsidy level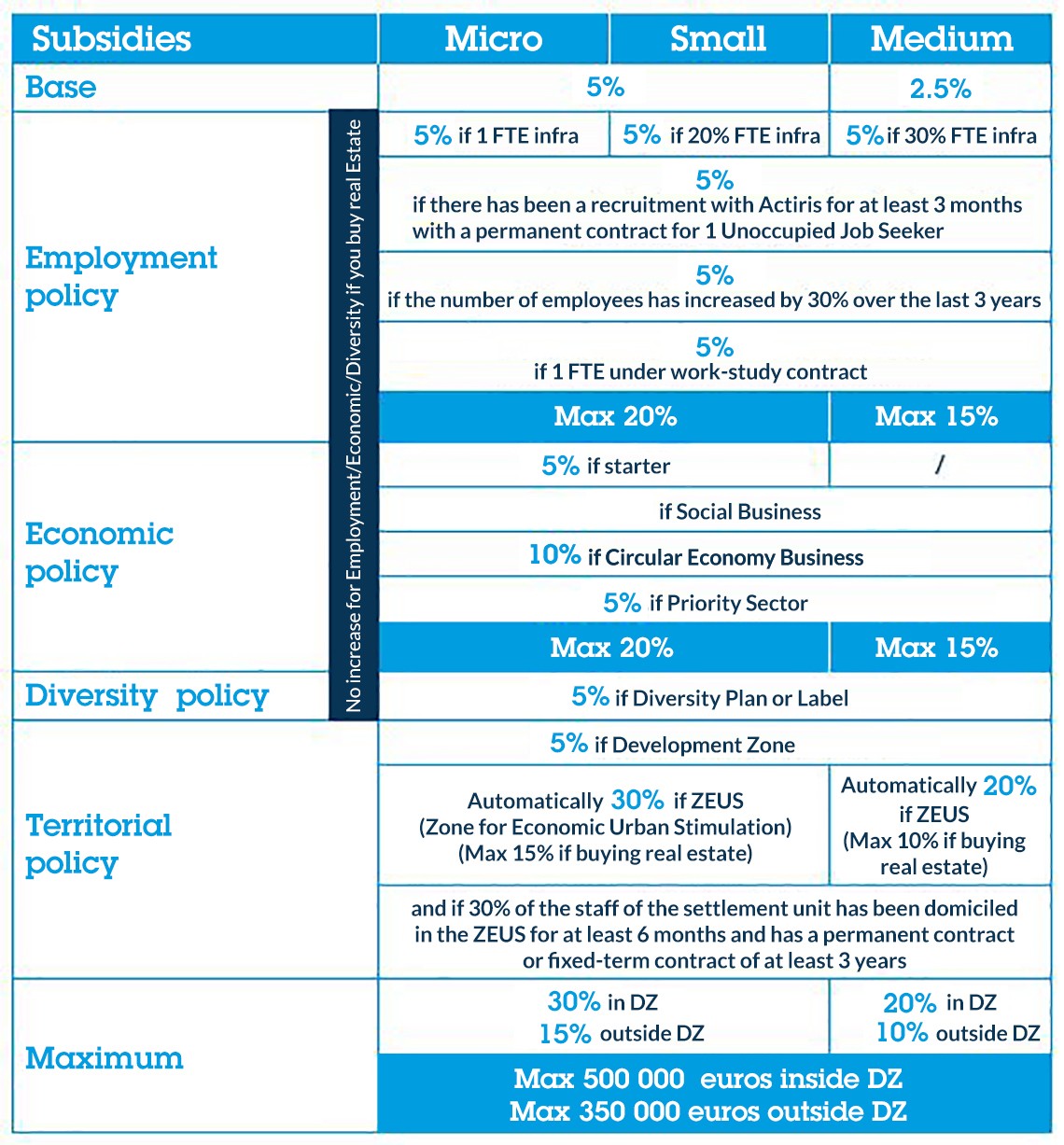 Invest in Brussels in the Development Zone or in the Zone for Economic Urban Stimulation (ZEUS)
When it comes to subsidies, Brussels is divided into several zones:
the Development Zone (ZD, pink)
the Zone for Economic Urban Stimulation (ZEUS, blue)
the rest of Brussels.
If you invest in the Development Zone or the ZEUS, you can count on an even larger financial subsidy from the Brussels Capital Region.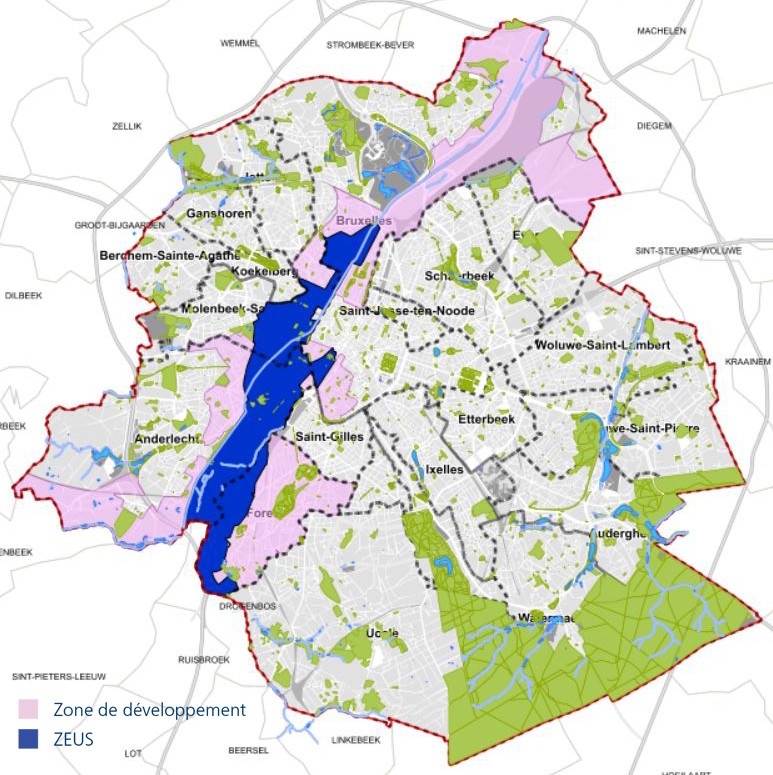 Subsidia@KBC Brussels is there to help all businesses with projects in Brussels
Micro-enterprises
Small businesses
Medium-sized enterprises
The aid provided to small businesses or to start-ups is more substantial than that offered to large enterprises. In each case, you have to invest a minimum amount: 15 000 euros for micro-enterprises (10 000 euros for start-ups), 30 000 euros for small businesses (15 000 euros for start-ups) and 100 000 euros for medium-sized enterprises.


Which investments can benefit from a subsidy?
The Brussels Capital Region differentiates between general investments and specific investments. If your investment falls into one of those categories, you can receive a subsidy.
Examples of general investments include:
Works and facilities (installation/expansion)
Furniture, equipment, machinery, computers (hardware)
New vehicles (trucks, vans, special vehicles, semi-trailers, etc.)
Examples of specific investments include:
Compliance with standards (health, safety, quality, environment)
Securing your premises (alarm, video surveillance, shutters)
Accessibility (disabled people, strollers, seniors)
Urban integration: neighbourhood problems, polluted sites and plantation
Circular activities (saving raw materials and/or sorting, storage, recovery of residual materials)
Building enhancements (following road works)
The subsidies for specific investments vary between 20% and in many cases 40%.
Subsidia@KBC Brussels can help you secure all sorts of other subsidies for consulting, training, exports and so on. These vary between 40% and 75%.
Would you like advice on obtaining subsidies? Make an appointment and our experts will run through the possibilities with you.

Make your subsidy application well before beginning your project
It's important to apply for your subsidy before you sign a purchase order, accept a quote or receive or pay an invoice. You can't obtain financial assistance for products or services you've already ordered or purchased.
Your application must be filed at least a month before your first commitments or expenditure!

What does Subsidia@KBC Brussels cost?
Subsidia@KBC Brussels charges 7% of the awarded subsidies, with a flat minimum rate of 750 euros, plus VAT, for full management of the application. When applying for consulting or training subsidies, a flat rate of 500 euros plus VAT will be charged.

Make an appointment to find out what subsidies are available to you to help fund your investments/expenses in Brussels
Which subsidies are available to companies in Brussels?
Download our free info pack on financial support for Brussels-based companies. It contains overviews and figures, a toolbox, legal information, fact sheets and details of the types and amount of financial support available.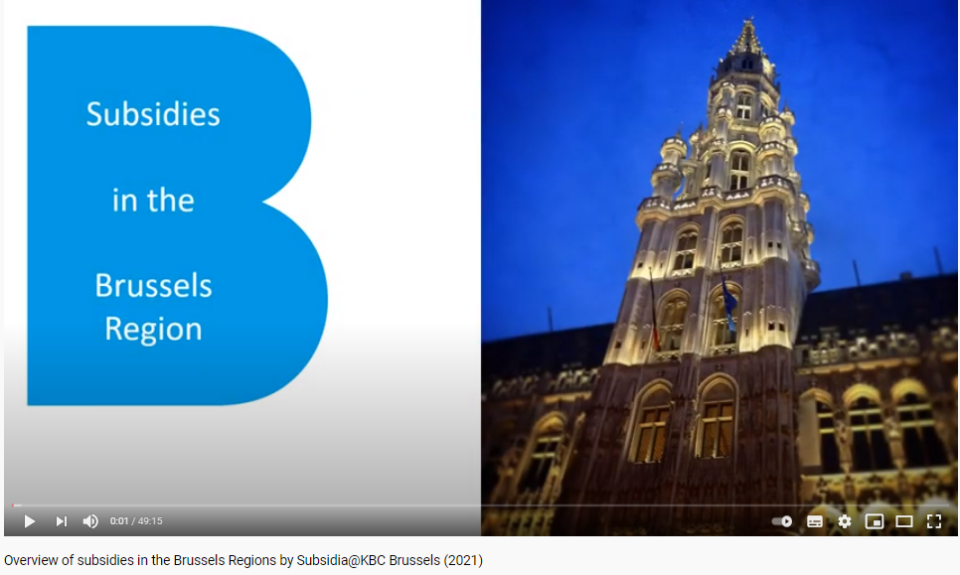 Want to know more about business subsidies in Brussels? Watch our comprehensive webinar on this subject (+/- 45 min): "Overview of subsidies in the Brussels Region by Subsidia@KBC Brussels (2021)".
To access it, please enter your e-mail address below.
More information