Loyalty card and marketing tool in one
Connect with your customers and collect useful marketing data all at once with Joyn.
E-mail marketing made easy
Tap the power of Joyn's advanced e-mail features to inform your customers of new products and promotions.
Interactive loyalty scheme like no other
Reward and retain your customers by letting them use their Joyn card or app to save for great benefits.
What is Joyn?
Joyn makes it easy for your customers to earn rewards at your business and other participating outlets using a loyalty card or app. Meanwhile, you get an unmissable marketing tool for your business that you won't want to be without.
How does it work?
Your customers simply scan their Joyn loyalty card or app on your iPad and collect points to redeem rewards. They can use their card at a growing list of businesses and earn points with each of them separately. 
Every scan lets you collect useful details (like their e-mail address, age, gender and postcode) that you can leverage to carry out targeted marketing campaigns. Joyn is also a great way to attract new customers. They quickly find their way to your business using the Joyn app or website, helping your business grow.
Retain and gain more customers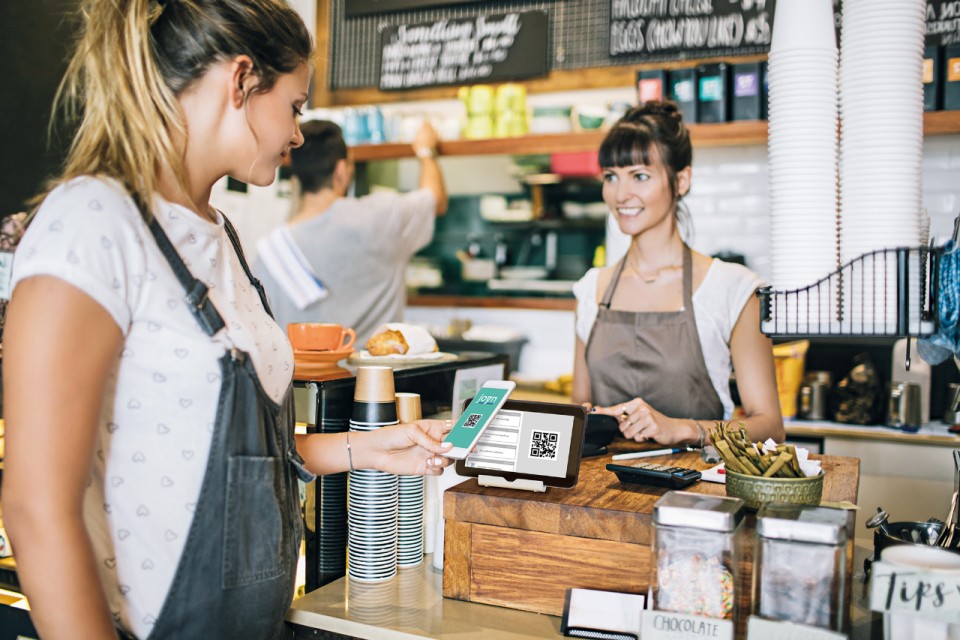 Joyn gives you innovative ways to bond with your customers and strengthen your relationship with them.
• Delight your customers with an interactive and original saving scheme to keep them coming back for more.

• Develop smart marketing campaigns using customer details you collect to personalise offers.
 
E-mail marketing made easy
Joyn includes advanced e-mail features that help you set up personalised, targeted e-mail campaigns. Target offers to specific audiences like women aged between 25 and 40 or just men living locally.
You can also send out automated e-mails, letting you do things like give your customers discounts on their birthday or keep loyal customers informed about your latest offers.


Good to know
Some 2 million consumers are already able to use their Joyn loyalty card at more than 7,500 retailers.
What does it cost?
A subscription costs 51 euros per month.

What do you get?
• Joyn app for iPad: connect with your customers in a unique way when they buy from you and scan their Joyn card or app on your iPad.

• Payconiq integration: make it easy for your customers to pay and saves points all in one go with Payconiq built into your Joyn app while you get paid quickly by Payconiq and save on costs as you only pay per transaction.

• Customer base: get useful data and build up an online customer base in Joyn's merchant portal to get to know your customers even better.

• E-mail campaigns: send targeted e-mails based on customer data for faster and more frequent repeat business.

• Joyn Advertising: attract new customers with a Joyn Advertising campaign that promotes your business by sending targeted ads straight to the smartphone of nearby Joyn users. It's all measurable too, so by the end of the campaign you'll not only know exactly how many new customers you've attracted, but also how much they've spent.
• Integration with cash register systems and Shopitag: let your customers pay and save right from the same app, get Joyn points through your online store or save points using till receipts as well as the app on your iPad while you tap into Joyn's ever-growing network of partners so you get the most from Joyn.

• Expertise: stay ahead with Joyn's unique insights into your sector and respond to changes like collecting customer data in full accordance with the EU's General Data Protection Regulation (GDPR).
• Advice by phone: call Joyn's advisers for personalised marketing advice on + 32 2 302 73 82.
 
Read more