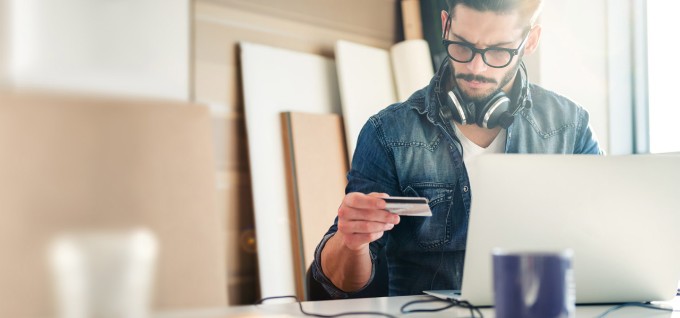 KBC Brussels Business PRO
The ideal account for people who run their own business
Starting at 39 euros a year
Free personal account included
Keep your business and personal accounts separate
Open your account quickly and easily online (with itsme®) and start using it right away
Why open a business account? 
Starting your own business or a second one? If so, you'll need a business account. Not only does it enable you to keep an overview of your customers' payments, it also makes it very easy to pay your suppliers and keep your business and personal payments separate.
You'll also get access to our convenient online banking tools which allow you to manage your banking matters on your computer, tablet and smartphone.
Do I have to open business account?

A business account is required if your company has been registered. If you're a sole trader, a business account is not required, but it is recommended because it lets you keep your business and personal payments separate.

As soon as you carry out a personal transaction, the account used will be regarded as being part personal and part business. This means that the taxman  can also look into the account. In addition, it'll take a lot of time and money to check each and every transaction on a personal (or mixed) account to see whether it was carried out for the company or for you personally. What's more, your accountant will have to spend more time reconciling all that expenditure, which also costs money.

To make your life easier, KBC Brussels launched the KBC Brussels Twin Package Deal so that you can keep your personal and business banking separate, with the added advantage that it won't cost you anything extra. It also comes with some benefits:

Deduct the full charge for our Twin Package Deal from your taxes
Switch conveniently between your personal and business accounts
What is included as standard with the KBC Brussels Business PRO Account?

Business current account
A free personal account (KBC Brussels Twin Package Deal included as standard when you open an account in KBC Brussels Touch, KBC Brussels Mobile or KBC Brussels Business Dashboard)
A KBC Brussels Debit Card
Unlimited manual and electronic transactions
Bank online with KBC Brussels Touch on your computer and tablet
Bank online with KBC Brussels Mobile on your smartphone
What costs are involved?
More info