KBC Brussels Mobile is packed with possibilities. You may not always have the time to discover all our latest features. That's where our app's handy dashboard comes in. It lets you keep lots of the details and features you need the most at your fingertips.
And we're always looking for ways to help you make KBC Brussels Mobile even more you. That's why your dashboard constantly evolves and lets you customise it the way you want it.
See all you can do with your dashboard to get the most from KBC Brussels Mobile – your way.
Personalise your accounts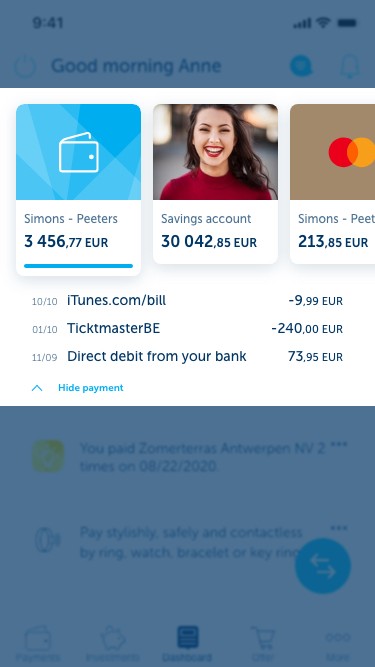 See your main accounts first and check them at a glance. Tap 'Edit favourites' to pick your favourite accounts and rearrange them how you like. View a little too blue for you? You can easily change that, too!
Colour things up with a fun photo from your phone or take one there and then to personalise your account view.
You're always shown the three latest transactions on your main account for your convenience.
Get tailored offers and insights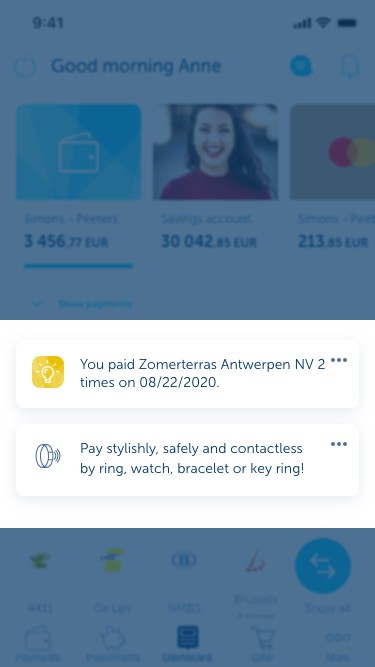 Your personal dashboard is also the ideal place to stay informed about new services and useful tips. It also lets you see insights into your finances.
See something interesting passing by? Give it a like! Not your thing? Just swipe it away. That shows us what you really want to know and makes your dashboard even more personal.
Access additional services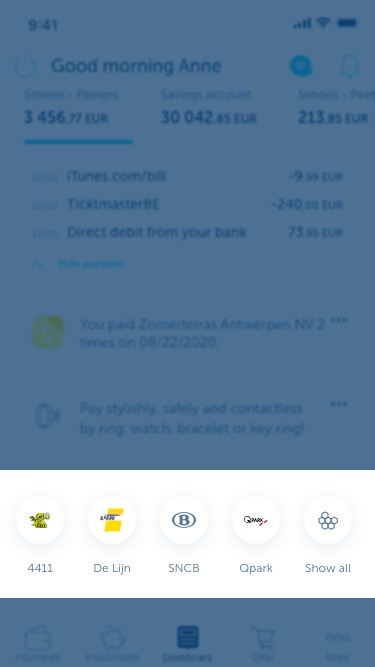 Get personalised advice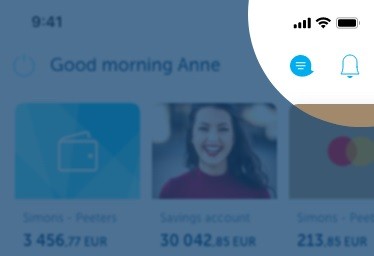 Have questions or need help? Simply tap the speech bubble at the top right to contact us. That way we know it's you and can help you even faster.

Keep everything sorted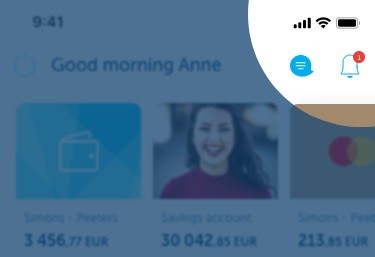 Check 'Actions' to quickly see whether you need to do something and sort it out in no time.
Make it your main view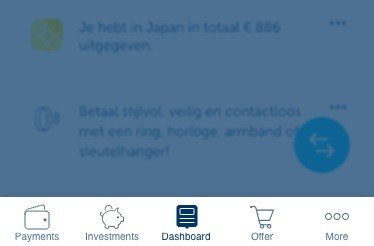 Love our dashboard? So do we! Tap 'More', then 'Profile' and 'Dashboard' to set it as your main view. The next time you log in to KBC Brussels Mobile, your personal dashboard will open right away.
Show off your dashboard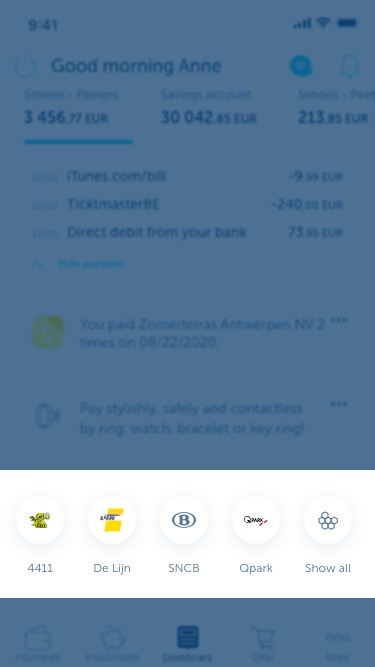 Love how your dashboard looks? Show it to your family and friends! They obviously don't need to know how much money is on your accounts, which is why you can use KBC Brussels Mobile in discrete mode.
Just tap 'More', 'Profile' and 'Dashboard' to enable it.
Once you've done so, you can easily hide the amounts. Simply wave your hand close to your phone's screen and your phone's sensor will detect your hand movement and blur any sensitive details. Just wave your hand once more to see the amounts again. Try it for yourself!