Systematic monitoring
We monitor your investment portfolio, watch out for possible risks and let you know when good investment opportunities come up.
Half-yearly analysis and discussion
Twice a year, we carry out a detailed analysis of your investment portfolio and invite you to a comprehensive discussion.
A broad look at your wealth
You get wealth management advice with a view to inheritance planning and preparing for retirement.
Your wealth is worthy of our care and attention
Monitoring your wealth takes a lot of time, attention and know-how. Which is precisely why we offer KBC Brussels Wealth Management Service Plus. The service includes effective wealth management advice and personal guidance, tailored exactly to you, all year round. And you benefit from a number of extra services and advantages.
Wide-ranging wealth management advice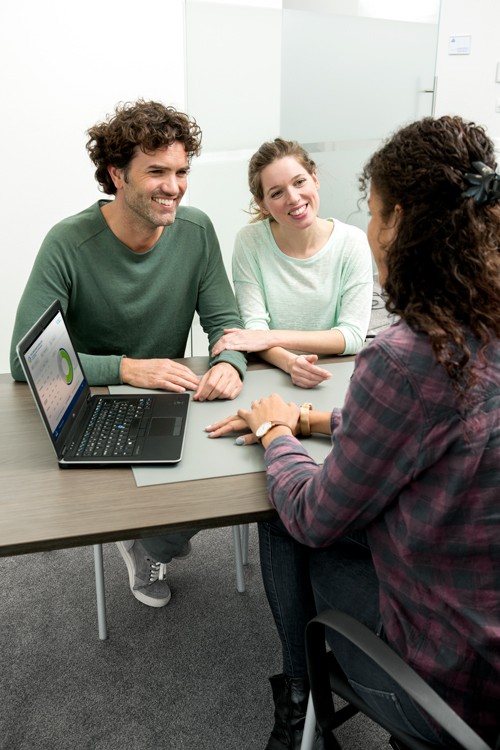 Wealth management advice is at the heart of KBC Brussels Wealth Management Service Plus. Because we're aware of every aspect of your investment portfolio, we're able to give detailed advice, providing you with a firm foundation for taking investment decisions.
A team of specialists monitor your wealth in structured manner the year round.
We watch out for potential risks.
We contact you if opportunities arise.
You get personal guidance and advice. Out investment advice aims to keep your portfolio balanced.
At least twice a year, we do a thorough analysis of your investment portfolio. You're given a detailed report and we invite you to a personal discussion meeting.
We make specific investment proposals tailored to your situation.
Sustainable investments

Monitor your investments when and where you want
KBC Brussels Invest is our online app for monitoring your investments on your tablet or PC, giving you detailed insight into your investment portfolio:
Plus, KBC Brussels Invest gives you the chance to react to the market and sign investment proposals online, no matter where you are. Even from the comfort of your own home. 
A broad look at your wealth
You'll be wanting to accumulate wealth by making investments, but will also be looking a bit further into the future. When you do, you can rely on more than investment advice alone, because we maintain a broad view of your wealth.
If you want to find out how best to prepare for retirement, you'll certainly be interested in our info evenings! You'll maybe also have wondered how best to pass your wealth on to the next generation, in which case our inheritance adviser will be glad to look into that for you. 
Relevant info on the world of investments
You don't just want to know how your own investments are doing, you want to be up on the markets and the world of economics in general: because that also affects the investment decisions you take. Our team of experts keep tabs on the latest financial news and give you clear, no-nonsense run-downs, which are shared with you in exclusive news reports. You'll also find a lot of info about the stock markets in our KBC Brussels Invest app.
We take extra special care of you
Choose KBC Brussels Wealth Management Service Plus, for that little extra from us.
You pay no management fee or card fee for a KBC Brussels Plus Account and KBC Brussels Gold Credit Card 1 (met KBC Brussels Flex Budget) 
We give you free  KBC Asset Insurance2.
Practical details
The KBC Brussels Wealth Management Service Plus is contractual and a fee is charged. Want to find out what KBC Brussels Wealth Management Service Plus can do for you? Then just get in contact with us. We'll be happy to help.
More info
2You must have a KBC Brussels Custody Account. KBC Asset Insurance is a product from KBC Insurance, Professor Roger Van Overstraetenplein 2, 3000 Leuven, Belgium, VAT BE 0403.552.563, RLP Leuven, IBAN BE43 7300 0420 0601, BIC KREDBEBB. Company licensed by the National Bank of Belgium, de Berlaimontlaan 14, 1000 Brussels, Belgium, for all classes of insurance under code 0014 (Royal Decree of 4 July 1979, Belgian Official Gazette of 14 July 1979).