Why is KBC Brussels Invest interesting for you?
1. A clear overview of your assets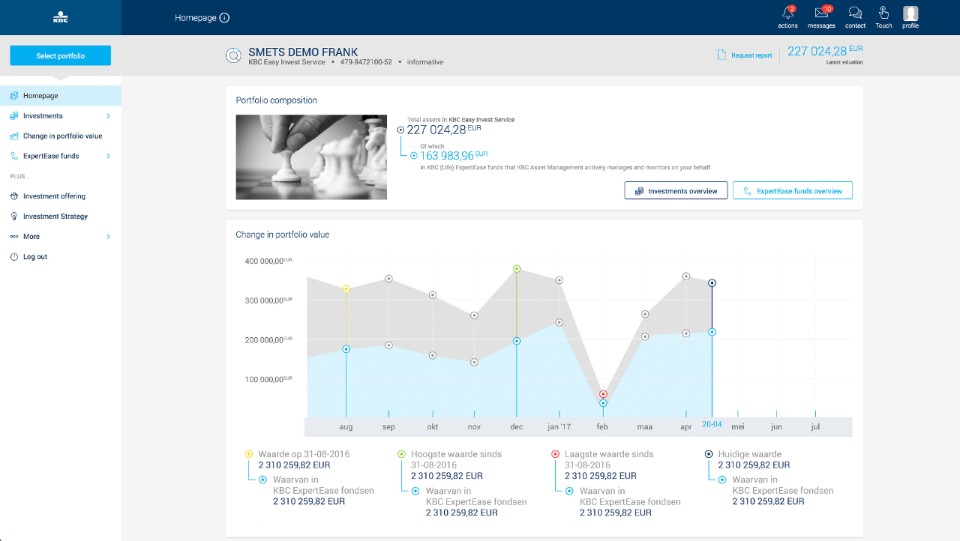 With KBC Brussels Invest, you constantly have a clear view of your investments.

It shows you at a glance how much your assets are worth and how they are performing, including your KBC (Life) ExpertEase funds.

You can analyse each investment in detail thanks to product features, historical returns and price performances.
2. Always well-informed
KBC Brussels Invest keeps you informed of events that are of importance for your investment portfolio. Among the things you get are:

A monthly report on the management of your funds

An annual report with a clear review of the past 12 months

Newsflashes about important events on the markets and how they impact your funds

Invitations to online info sessions (webinars) that you can follow from home and where our experts explain their approach and answer your questions.
3. Our experts at your service
With KBC Brussels Invest, you can ask questions without leaving your armchair. Our experts are there for you Monday to Friday from 8 a.m. to 10 p.m. and Saturdays from 9 a.m. to 5 p.m.
You can even sign investment transactions from the comfort of home. Our specialist will provide you with the documents in KBC Brussels Invest and you sign them without having to pop out.
What does KBC Brussels Invest give you?
KBC Brussels Mobile and KBC Brussels Touch only provide limited information on your investments. KBC Brussels Invest goes a step further and gives you more background and insights.
Looking to get a clear view of your assets at a glance? In the start screen of KBC Brussels Invest, you can see how much your investments are worth, how they are made up and how they are performing.