Insurance tailored to you
Do you just want the insurance you have to have by law? Or do you want more security? Choose the options that you think are important.
Breakdown assistance option
With KBC VAB Assistance for motorcycles, you can count on our road breakdown rescue service in Belgium and abroad.
File insurance claims using our apps
Use our KBC Brussels Mobile and KBC Brussels Touch apps to file claims with us fast wherever you are, then we'll do the rest for you in no time.
If you ride on a public highway with a motorcycle, by law, you have to have third-party insurance.
This compulsory insurance policy for your motorcycle covers harm you cause to others if you cause an accident, such as personal injury and damage to other vehicles or buildings.
If you also want compensation if your motorcycle's damaged or you yourself are injured, you have to take out additional insurance.

What's covered under third-party insurance?
Covered
Harm you cause to others with your motorcycle. Includes property damage (bodywork, buildings) and bodily damage (death or injury).
If a vulnerable road user is injured in an accident involving your motorcycle, their injuries are compensated even if you were not in fault.

Not covered
Damage to your own motorcycle.

Bodily injury that you as the rider sustain in a road traffic accident.

Harm caused by taking part in competitions.

Damage you cause intentionally.
For even greater security, it's a smart move to add certain types of optional cover to this third-party policy. Note that you're not under any legal requirement to do so, but it may end up saving you a lot of money. Read all about it below.

Add-on cover no. 1: legal assistance insurance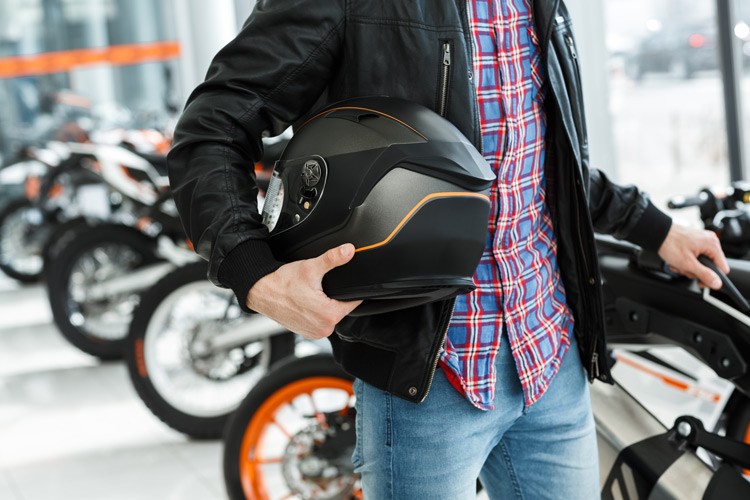 This additional legal assistance cover comes in useful in a good many situations:

you get into a disagreement with the authorities about registering your motorcycle
your defence costs if you're prosecuted for a road traffic offence such as speeding or running a red light
claims against the manufacturer of your motorcycle

In these cases, legal support and assistance are no luxury. We always try for an out-of-court settlement. If that doesn't work, KBC Brussels will recommend a lawyer to represent you in court. You can also instruct counsel of your own choice. We pay the costs of the court proceedings up to a maximum of 100 000 euros.
 
What's covered under Legal Assistance insurance?
Covered
If someone other than you caused you harm, we'll help you claim damages.

Legal assistance for contract disputes, such as when buying your motorcycle or getting it repaired.

Legal help in disputes with government agencies in connection with matters such as registering your vehicle, suspension of your driving licence and periodic inspections.

Criminal defence if you are prosecuted for road traffic offences such as speeding or riding your motorcycle under the influence.

Not covered
Fines and out-of-court settlements

Disputes arising from the carriage of persons and goods for consideration.

Disputes arising from taking part in competitions or wilful conduct constituting an offence.

Disputes further to renting a moped or renting yours out.

Add-on cover no. 2: partial comprehensive insurance
If you want even better protection for your motorcycle, you can count on KBC Brussels. Our Partial Comprehensive Insurance also covers your vehicle against fire damage. Plus, you have added cover against theft and attempted theft. That's very useful, especially if you park your motorcycle in the street at night.
What's covered under Partial Comprehensive Insurance?
Covered
Damage caused by fire, explosion or fire-extinguishing activities.

Melting damage as a result of a short circuit.

Theft and attempted theft.

Damage to your motorcycle as a result of an accident or vandalism whilst it was stolen.

We pay the costs of towing and repatriation of motorcycle and rider(s) up to a maximum of 750 euros.

Not covered
Damage to your own vehicle caused by a traffic accident.

Theft if your motorcycle is stolen while unlocked in a public place.

Harm caused by wear and tear or lack of maintenance.

Damage you cause intentionally.

Injury you sustain as rider. 

Add-on cover no. 3: KBC VAB Assistance Motorcycle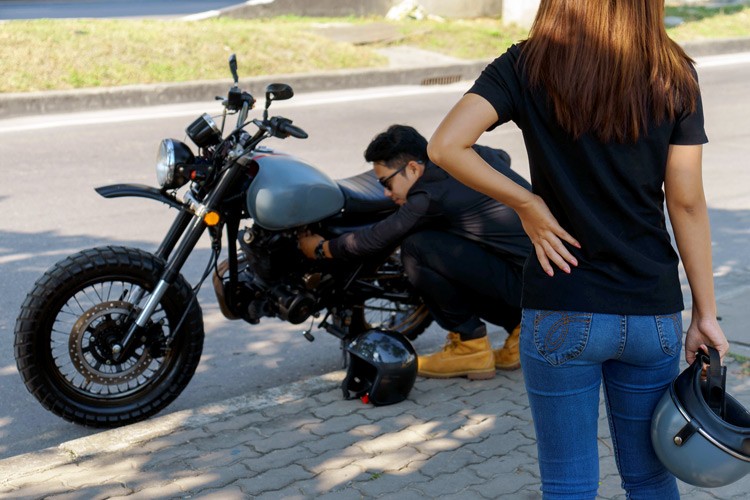 It's not a lot of fun to be stranded at the roadside, but assistance insurance for motorcycles from KBC Brussels-VAB will ease the pain a little. As a VAB member, you can count on vehicle assistance plus road breakdown rescue service. In Belgium and abroad!
What's covered under KBC VAB Assistance Motorcycle?
Covered
Vehicle assistance covers you for assistance given further to an accident, theft or breakdown, as well as roadside repairs and towing services.

VAB membership gives you an entitlement to recovery services at home when travelling anywhere in Belgium.

Extra benefits from VAB membership like cheaper fill-ups, and discounts and benefits with partner businesses.

Not covered
Engagement in sports for payment or profit. This includes training practice.

Damage you cause intentionally

KBC Brussels does not pay for any repairs, just costs for towing and shipping costs for spare parts, etc.

You benefit from fast, professional round-the-clock assistance, the whole year through. Assistance is valid in geographical Europe and in the countries not crossed out on your green insurance card.
If you have an accident or breakdown or if your bike's stolen, report the incident using KBC Brussels Mobile orKBC Brussels Touch so that we can help you continue your journey even more quickly.
Good to know
KBC Vehicle Insurance (Motorcycles) can include one or more of the following forms of cover:
| | |
| --- | --- |
| Compulsory Third-Party Liability Insurance | This is a third-party liability insurance policy. |
| Legal Assistance Insurance | This is a legal assistance insurance policy. |
| Partial Comprehensive Insurance |  This is a partial comprehensive insurance policy. |
| KBC VAB Assistance Motorcycle | This is a vehicle assistance insurance policy. |
This product is subject to Belgian law.
Insurance cover under this policy is for a term of one year and tacitly renews unless terminated no later than three months before the principal renewal date.
Your intermediary is the first point of contact for complaints. If no agreement can be reached, please contact KBC Complaints Management: Brusselsesteenweg 100, 3000 Leuven, complaints@kbc.be, tel. 0800 62 084 (free of charge) or + 32 78 15 20 45 (charges apply), fax + 32 16 86 30 38. If you cannot find a suitable solution, you can contact the Belgian insurance industry's ombudsman service: Ombudsman van de Verzekeringen, de Meeûssquare 35, 1000 Brussels, info@ombudsman.as, , www.ombudsman.as.
This does not affect your legal rights.
To request a quote for KBC Vehicle Insurance (Motorcycles), visit our website or contact your KBC Brussels Insurance intermediary.
KBC Vehicle Insurance (Motorcycles) is a product from KBC Insurance NV – Professor Roger Van Overstraetenplein 2 – 3000 Leuven – Belgium –
VAT BE 0403.552.563 – RLP Leuven  – IBAN BE43 7300 0420 0601 – BIC KREDBEBB
The company is licensed by the National Bank of Belgium, de Berlaimontlaan 14, 1000 Brussels, Belgium for all classes of insurance under code 0014 (Royal Decree of 4 July 1979, Belgian Official Gazette of 14 July 1979).
Member of the KBC group

For a concise description of the cover, the main exclusions and other useful information, please refer to the product fact sheet.
If you have a motorcycle and a car,
ask us about our cheaper rate for combined cover.