Thinking about buying an environmentally friendly car? Great! But which type? Electric, CNG or plug-in hybrid? We compare the advantages and disadvantages and tell you everything about the taxes. Check them out, weight them up and decide.
Discover the pros and cons of each engine type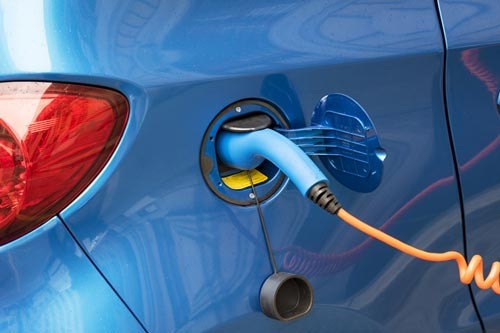 How does it work?
Want to drive virtually 100% environmentally friendly? If so, an electric car is an obvious choice. The principle is straightforward: a battery, one or two electric motors and a drive system. Vehicles like this don't have gears or a gearbox: you just step on the accelerator and away you go.
Pros
It emits no CO2, drives silently, consumes less and is cheaper to service because there are no engine maintenance costs.
Because you don't have a gear box, you use your motor's full power when pulling away and have smooth acceleration.
Charging your battery costs less than filling up with diesel or petrol.
In Flanders you don't pay any road tax to drive your car. In Brussels and Wallonia, you pay tax at the minimum rate.
If you have solar panels and you generate more electricity than your household uses, you drive for free.
Cons
Electric cars are still quite a bit more expensive than other models in the same class. That's because of the cost of the battery.
The faster you drive, the greater the demand that is placed on the motor and the lower the distance you can cover.
Belgium still has far too few charging stations, though the government is hard at work extending the network. If you regularly motor long distances, you have to know ahead of time where you can pull in to charge the battery in your car. Locate charging stations near you or along your route.
If you take account of the cost of the car and the cost of charging the batteries, the price per kilometre is then higher than for cars with an internal combustion engine.

Most models have an electric motoring range of between 150 and 200 km before you need to get home or find an EV charging station. If you're prepared to move up to a higher price class, you'll find vehicles with a range of 300 to 500 km.
A complete charge at home can easily take three to five hours for smaller models and seven to ten hours for bigger cards. The speed with which you can charge your battery whilst on the road depends on the rating of the EV charging station. The higher the rating, the shorter the 'fill-up.'

A charging station up to 11 kW will charge you at normal speed. It'll take at least two hours to fill up.
A station rated at up to 22 kW will charge you up faster. It'll take a minimum of one hour to charge the car.
A fast-charge station rated at 50 kW will charge your battery 80% in 15 to 30 minutes.

Note that not every electric car can be hooked up to a fast-charge station. Enquire with the seller whether your car's battery is suitable for DC fast-charge stations.
Some electric vehicles are sold without a battery, which you then lease or rent. The rental can be fixed or calculated based on the term of your rental contract and the mileage you drive each year.

EV batteries cost several thousands of euros and still won't last a lifetime. The advantage of renting? You never have to replace your battery and the cost alone won't prompt you to consider buying a new car.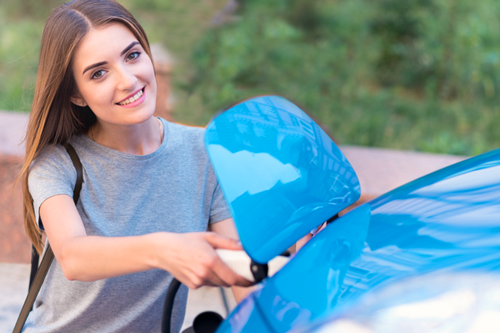 How does it work?
Some electric cars are fitted with a 'range extender'. This is actually a small combustion engine to replenish the battery when you're short on charge. It is still the electric motor that powers the car itself.
Pros
A range extender lets you drive further on electric than you can with a purely electric car.
That's handy if you need to cover longer distances but still want to drive electric. You'll need to fill up with diesel or petrol occasionally to keep your range extender at the ready.
Cons
An electric car with a range extender is less environmentally friendly than its electric cousin owing to the extra internal combustion engine.
You also carry extra weight, which eats into your autonomy and makes your car less dynamic.
An electric car with a range extender is actually a plug-in hybrid. You pay the same vehicle registration tax and road tax.
How does it work?
Like a fully hybrid car, a plug-in hybrid combines a petrol or diesel engine with an electric motor. The difference is that the battery of a plug-in hybrid is bigger than that of a 'traditional' hybrid and that you charge it from the mains, which increases the range to between twenty and sixty kilometres. You can charge your car using a domestic power outlet or an adapted one that can deliver more power.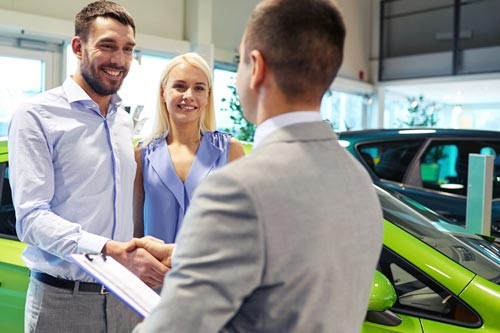 Pros
A plug-in hybrid uses a diesel or petrol engine plus an electric motor. You can charge the battery at home or work from a regular socket.
If you often motor in town or mainly do short distances, a plug-in hybrid is certainly worth considering. On short journeys and in built-up areas, you use very little, if anything at all.
The combination of an internal combustion engine and an electric motor means your range is as far as with a petrol or diesel engine vehicle.
The Flemish government is currently encouraging people to buy plug-in hybrids: until the end of 2020, you pay no vehicle registration tax or road tax.
Cons
Even plug-in hybrids are expensive to buy.
The large battery takes up a lot of space and makes the vehicle heavier.
The range when using electric power only is still fairly limited: between 20 and 50 km.
Maximum speed while driving electric is low: usually no more than 50 kph.
And, of course, it's not so good for the environment.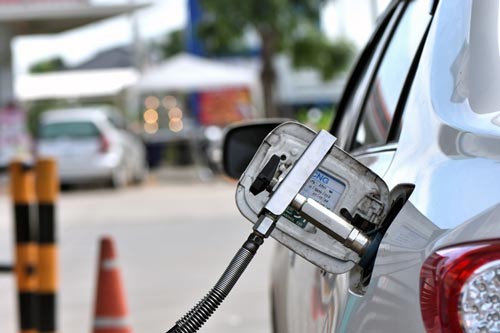 How does it work?
CNG stands for compressed natural gas. It differs in this respect from LPG, which is a by-product of diesel and petrol. You can refuel with CNG using a slow-fill or fast-fill system. Slow-fill works via a small compressor connected to your domestic gas supply. It takes several hours to fill your tank. To use the fast-fill system, you need to go to a CNG station, where you can fill up as quickly as at a traditional petrol station.
Pros
A CNG car emits 90% less fine particles and 30% less CO2 than a diesel or petrol vehicle. Natural gas is also 10% cheaper than diesel and 30% cheaper than petrol.
Filling up is equally as quick as for a petrol or diesel vehicle and much quicker than for an electric vehicle. The CNG tank is fitted into the floor of the car, which means you don't lose any boot space.
With various car brands combining CNG with petrol, you can continue driving when your CNG tank is empty. If you want to drive in an even more environmentally friendly manner, you can fill up with biogas. And as with plug-in hybrids, you don't have to pay any vehicle registration tax or road tax until the end of 2020 in Flanders.
Cons
A CNG car is also more expensive to buy than a petrol car, and often cheaper than its diesel and electric cousins. The CNG tank is heavy and quite large, which influences how far you can drive. At present, there aren't many filling stations in Belgium either (around 100) where you can refuel with natural gas. Find a CNG station near you.
You can convert your vehicle from diesel or petrol to CNG, though that will cost between 2 000 and 4 000 euros or more. Only accredited fitters may carry out such a conversion (there are 15 in Belgium). View the list. 
Compare: how far on average do you drive pure electric or on natural gas?
| | | | | |
| --- | --- | --- | --- | --- |
|   | Up to 5 km | Up to 50 km | Up to 300 km | Up to 500 km |
| Plug-in hybrid | | |   |   |
| Electric | | | |   |
| Range extender | | | | |
| CNG | | | | |
| | |
| --- | --- |
| Plug-in hybrid | Up to 50 km |
| Electric | Up to 300 km |
| Range extender | Up to 500 km |
| CNG | Up to 500 km |
How you drive determines your advantage
Is an environmentally friendly car more advantageous than a diesel or petrol car? Or isn't it? It all depends on how you drive.
What's your annual mileage? How long are you going to keep the car? Is your driving style economical or sporty? The Flemish government's milieuvriendelijkevoertuigen.be website lets you compare electric, plug-in hybrid and CNG cars with equivalent internal combustion models.
You can see straight away how much the basic model will cost you. It gives you details of how much you save with a green car. Or how much extra you have to fork out. Do the calculation.
| | | |
| --- | --- | --- |
| | 2017, 2018, 2019 | 2020 |
| Car's list price < 31,000 euros | 4,000 euros | 4,000 euros |
| Car's list price 31,000 - 41,000 euros | 3,500 euros | 3,500 euros |
| Car's list price 41,000 - 61,000 euros | 2,500 euros | 2,000 euros |
| Car's list price > 61,000 euros | 2,000 euros | 1,000 euros |
Liability to vehicle registration tax (BIV/TMC) and annual road tax.
Flanders
Registration tax
Road tax
100% electric
Exempt

Exempt

Plug-in hybrid

Exempt till 31 December 2020
Conditions:

Can be charged using regular socket
CO2 emissions < 50 g/km

Exempt till 31 December 2020
Conditions:

Can be charged using regular socket
CO2 emissions < 50 g/km

CNG
Exempt until 31 December 2020
Exempt until 31 December 2020
100% hydrogen
Exempt
Exempt
Brussels
Registration tax
Road tax
Electric
Minimum rate of 61.50 euros
Minimum rate of 77.35 euros
Plug-in hybrid

Based on fiscal horsepower
(power rating)


Based on fiscal horsepower
(power rating)

CNG
Based on fiscal horsepower
(power rating)
Based on fiscal horsepower
(power rating)

Wallonia
Registration tax
Road tax
Electric
Minimum rate of 61.50 euros
Minimum rate of 77.35 euros

Plug-in hybrid

Based on fiscal horsepower
(power rating)
Ecological harm tax for
CO2 emissions > 145 g/km


Based on fiscal horsepower
(power rating)

CNG

Based on fiscal horsepower
(power rating)
Ecological harm tax for
CO2 emissions > 145 g/km


Based on fiscal horsepower
(power rating)

Loans for electric, plug-in hybrid or CNG cars
Electric, CNG or plug-in hybrid: for an ecological car, you still have to cough up more than for a diesel or petrol engine car. With an ecological car loan, you
Get a beneficial rate
Choose yourself how much you pay off each month
No need to dip into your savings
Fixed instalments each month