Pinpointing the ideal moment to buy or to enter the market is extremely difficult. The financial markets can fluctuate significantly at any time, and that has an impact on the value of your investments.

But does this volatility generate such a serious risk that it is better not to invest at all?
Below we examine how shares have performed in three different indices over the past 25 years. In this example, we only discuss shares because their prices fluctuate most and that has the biggest impact on your return. However, when you invest, you can choose from a wide range of different investment products.
Investing is rightly referred to as being made-to-measure: your aim is to achieve a balance between the targeted return and choosing investments that are in your comfort zone. When you start out investing, be sure to keep some money on your savings account as a buffer. In that way, you always have enough in reserve to meet any unexpected expenses, without having to tap into your investments.

In focus: how the stock markets have performed over the past 25 years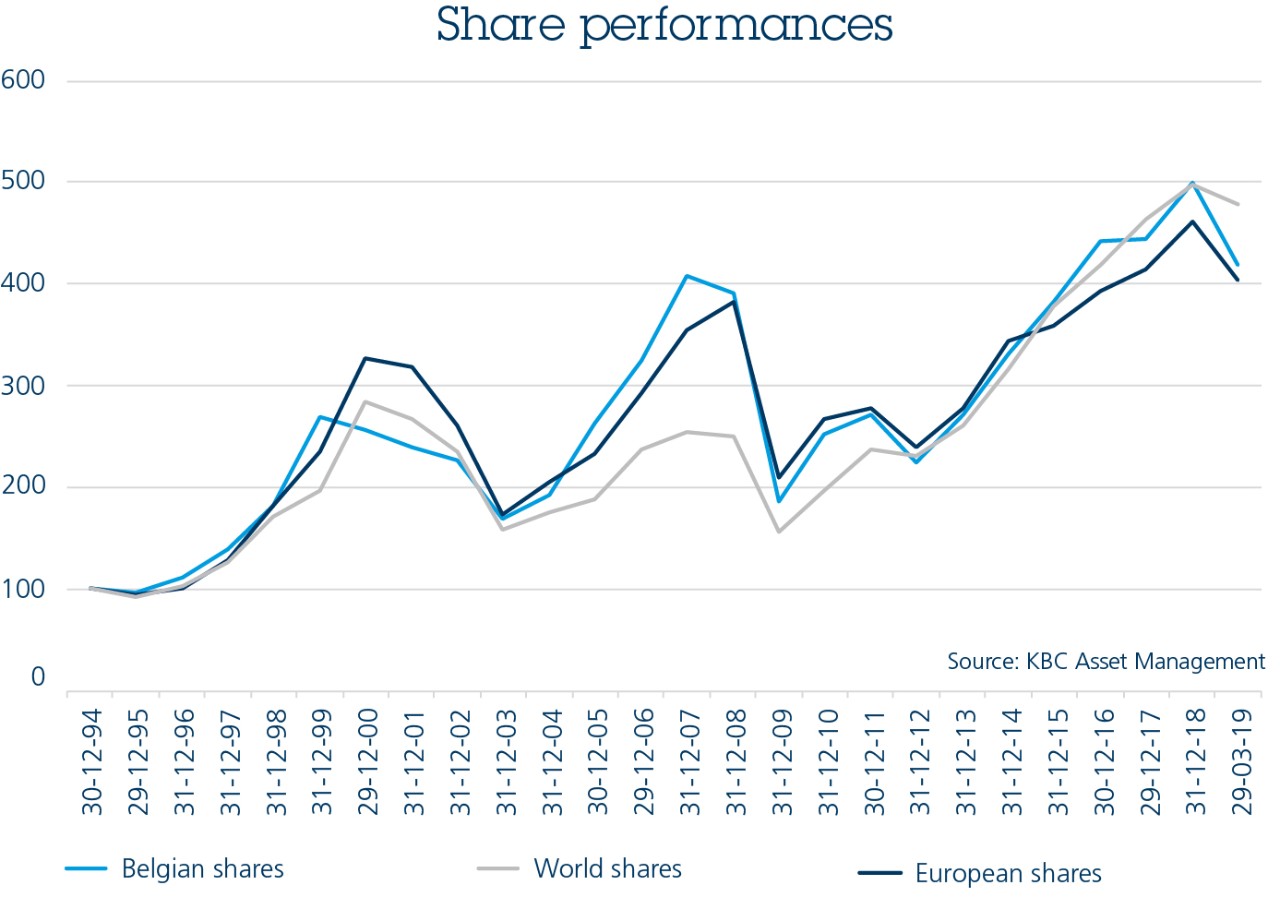 When you look at the returns* generated by a number of stock markets, you'll see that there are many more good years than poor ones. For instance, the BEL 20 has delivered positive annualised returns in 16 of the past 25 years. The European stock exchange (MSCI EMU Index) did that in 17 of the past 25 years, while the world index went one better, doing it 18 times in the same period.
Despite the stock market crisis in 2008, if you had invested continuously in one of these indices since 1 January 1994, your total return at year-end 2018 would have come to:
319.59% on the BEL 20 (or an average of 5.9% per year)
303.58% on the world index (or an average of 5.74% per year)
377.59% on the European index (or an average of 6.45% per year)
In short, had you invested a capital sum in 1994, you could have pocketed an average return of 5.9% a year at the start of 2018, even on the worst performing of these three indices.**
* Figures in euros including net dividends, before deduction of any charges and other expenses (Source: KBC Asset Management NV).
** Past performance is not a reliable indicator of future performance.
An answer to inflation
In these times of low interest rates you don't earn much on your savings. Worse still, your assets are actually losing value.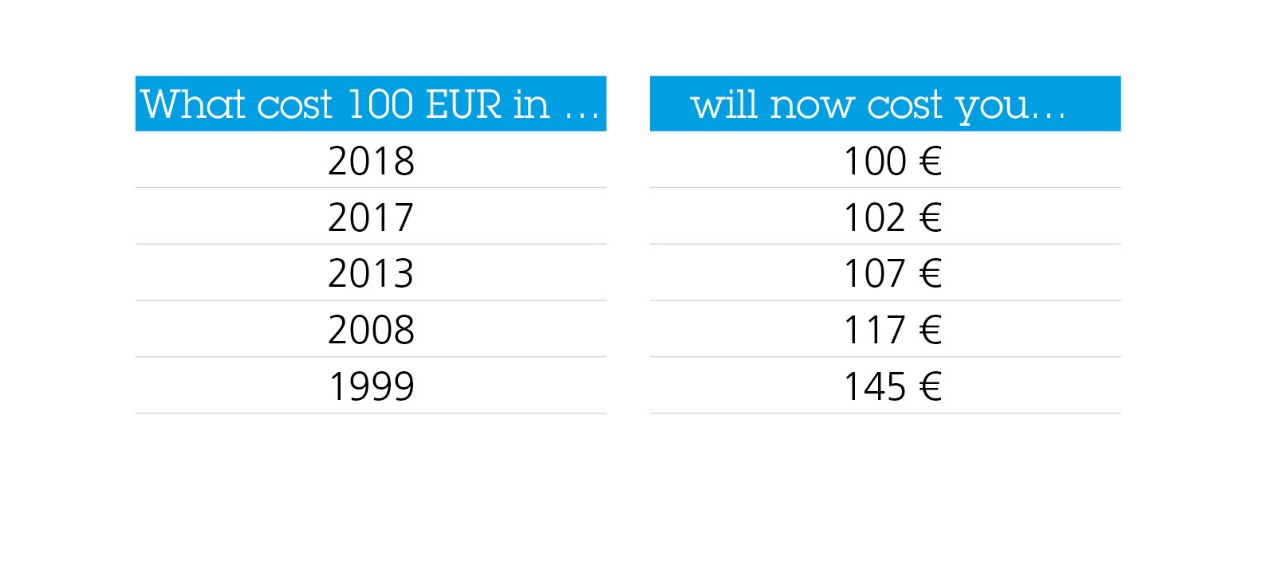 The cost of living is becoming more and more expensive, which means that you lose purchasing power, i.e. the same amount of capital buys less and less. Even if interest rates were to go up in the years ahead, that would not be enough to prevent your savings from losing value in real terms.

Conclusion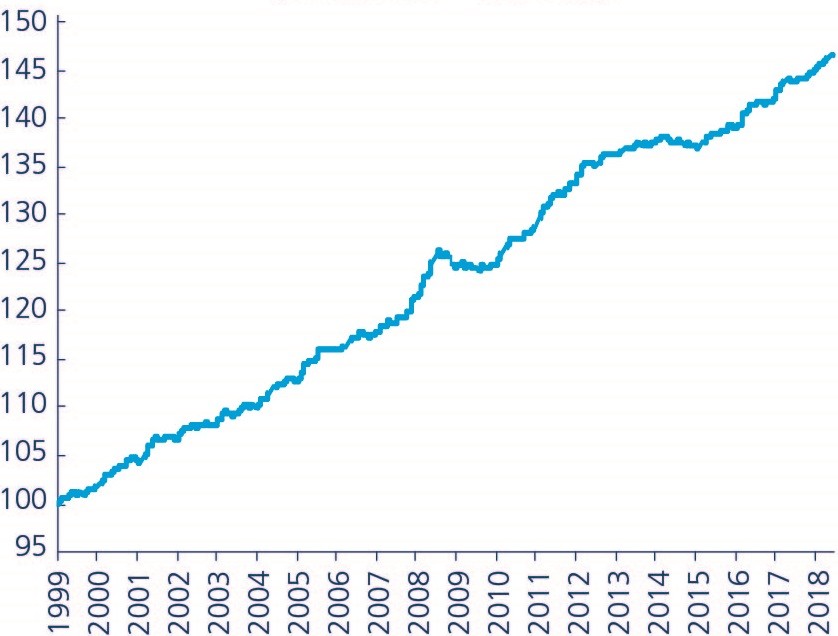 Exactly when you start investing is less important.

Delaying when you start is much more damaging for your return. While you're waiting for a suitable moment to enter the market, inflation eats away at your wealth.
The performance of the stock markets over the past 25 years illustrates how investing for the long term can generate a tidy return. Even with the poorer performing investment we have discussed here, it is possible to beat inflation.

Interested in investing? We'll be happy to help you further.
KBC Brussels Investment Plan
You can invest periodically for as little as 25 euros a month. Investing this way is so easy that you can do it on your smartphone. Just set up an KBC Brussels Investment Plan in a few taps, where and when you want, and you're good to go. Click or tap below to discover all the benefits.

Strategy funds
If you have a larger amount to invest and want to put it to work, simply sign up to the strategy funds and our specialised fund managers will do the rest. Tap or click below and find out all you need to know.